(Excerpt from my book, "D iz for Different – One Woman's Journey to Acceptance")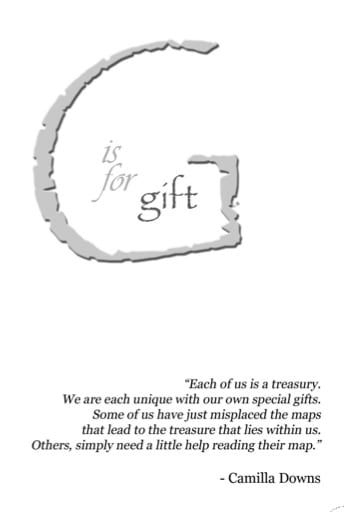 Each and every person on this Earth is unique, and holds a gift to share with the World . . . our true selves. This includes those in our society who have a handicap, disabilities, and those with special needs. Many of us keep our true selves buried deep within, as I did, for fear that we will be considered different and unaccepted. Some of us just need a little extra help in the form of guidance to nurture and grow our special gifts. Okay, maybe a lot of extra help! Everyone benefits when we let our differences and gifts radiate and glow.
Our differently-abled children simply process the world, information, and life, differently than we do; but they are in good company. There have been many throughout history who also processed differently; like Albert Einstein; Michelangelo; Thomas Edison; Amelia Earhart; and Steve Jobs, to name a few. They had amazing, life changing, life improving gifts, and were successful in spite of their label as freaks and kooks. Today the labels may have changed, but the thoughts still remain.
Lillian is a young lady who shines like no other, and has a beautiful inspiring energy about her. She and children like her teach us lessons about acceptance and change. This is one of their gifts. As an integral spoke in the wheel they can turn around societal and stereotypical views that they don't have anything to offer; are a drain on our country's resources; or views that they, and their family are unhappy and should be pitied.
Another one of Lillian's gifts is showing us the benefits of embracing technological innovation, and the shift in the way we communicate. Technology can be life changing and life improving for some amongst us, and should be approached with an open mind. We no longer solely communicate with our mouths and voices as a society. A great majority of us use technology and social networking sites to stay connected, communicate, and conduct business.
On a beautiful summer day in 2009, I visited Lillian at school. Her class was at recess. As I stood chatting with Lillian's teacher, I was scanning for Lillian among the sea of kids. My eyes landed on a petite young lady pulling a cart behind her. Yes, that was my Lillian, pulling a cart loaded with her DynaVox unit. Tears welled in my eyes, a lump formed in my throat, and my knees got weak. I thought, "There has to be something better." I made a firm commitment to myself and to Lillian in that moment that I would find something more mobile and compact for her to use to communicate, something that did not make her stand out. I began monitoring the use of keywords and phrases like speech impaired, nonverbal, and AAC on Twitter and Google Alerts. Almost immediately I came across Twitter mentions of an application for the iPhone and iPod touch by the name of Proloquo2Go that had just been released four months earlier. Proloquo2Go is a communication solution with natural sounding text-to-speech voices for people who have difficulty speaking. I researched a bit more, went to the Apple store, and bought Lillian an iPhone. With Proloquo2Go installed, I gave it to her that day when I picked her up at the bus stop. A meeting with the school followed that same week to inform them she would no longer be using the DynaVox and would be using the iPhone instead. Lillian figured out the iPhone and Proloquo2Go within a week. This was technological innovation at its absolute best! Turning Views Foundation's Gift-a-Voice Project was birthed from this experience (Learn more at www.TurningViewsFoundation.org).
Today, our communication methods have shifted and are literally evolving to include more of our society than ever before. When a mother of a speech impaired, or nonverbal child "hears" "I Love You" or "Mom" for the first time, it touches their heart like nothing else can. According to the National Institute on Deafness and Other Communication Disorders, 7.5 million people in the United States have trouble using their voices for one reason or another. This includes people who are nonverbal, speech impaired, autistic, hearing impaired or who have dysarthria, apraxia, or aphasia due to chromosome abnormalities, Multiple Sclerosis, stroke, Cerebral Palsy, brain injury and many other conditions.
To fully grasp the impact technology has in your daily life, take note throughout your day just how often you communicate using technology via email, text or social networking sites. If you still conduct many of your conversations over the phone, or face to face, stop and think, "How would I be having this conversation if I did not have the use of my voice, or if I could not articulate what I'm trying to say?" There are options now that weren't available years ago. One of Lillian's gifts is using my voice to show how technological innovation is benefiting society.
Our children with special needs are not broken, and do not need to be fixed. When we use negative words like "problems", "cannot", and "deficits" to define disability it is difficult to see the positive gift our child possesses. Focusing on what our child cannot do, is a barrier to seeing their gifts. When we accept that it is their "normal" to have special needs; our eyes can be opened to see our child's gift that probably has been right there all the time.
Some will continue to only view those differently-abled as having something wrong with them and being limited. These same people won't take the time, nor would have the patience to connect with those who are differently-abled. Unfortunately, they miss the experience of being on the receiving end of a unique heartfelt gift, a gift that only those with patience and peace can receive.
Until we have moved past the guilt stage and are well on our way to acceptance of ourselves and our children, it will be impossible to see the gift in situations, and the gift of our children, with and without special needs. No matter what, guilt gives power to the wrong thoughts and is a barrier to acceptance. Even in our most painful lessons there are hidden gifts whether we see them as such or not. The process requires patience with ourselves and not forcing the process to get over the guilt and "why" questions quickly. Guilt is a stage we simply must make our way through. Rest assured, when you arrive on the other side of guilt, you will realize the gift you hold, the gift your child holds and the gifts revealed through situations.
Tip for the Journey:
Identify and embrace your child's strengths, needs, interests, fears and motivators. Focus on your child's strengths and be open to providing opportunities for them to express themselves and their thoughts. Remember; don't discount qualities that you or others find odd, irritating, or annoying. That just may be the wrapping paper around the gift they hold. Provide opportunities for them to paint, play an instrument, make crafts, dance, practice yoga, swim, play sports, write and use their hands to create.
Heartfuly Inspired,
Camilla
See It. Share It. BE IT … Spread Love Everywhere You Go!
Latest "Special Needs Parenting" Articles:
[catlist name=children-with-special-needs-2]
Go here to subscribe to my blog to ensure you receive new posts delivered straight to your inbox! Right here!