Thank you to Michelle Whitman for this lovely review of Lillian's book, Where Would You Fly and Other Magical Stories …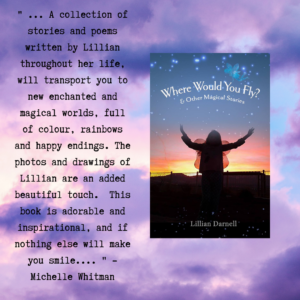 This is a lovely and magical book, full of wonderful short stories where you can let your imagination drift and enter the unique world of Lillian. A collection of stories and poems written by Lillian throughout her life, will transport you to new enchanted and magical worlds, full of colour, rainbows and happy endings. The photos and drawings of Lillian are an added beautiful touch.
Personally my favourite bit about this book was the section on Emotions and Feelings. Camilla (Lillian's Mum) explains at the beginning of the book that this section was born from them working together to understand and process emotions and from that, Lillian produced "Emotions with Animals". There is a lot both children and adults alike can learn from this section and it really resonated with me, and how I try to live my life. Each mini story talks about a different animal and emotion, for example 'Calm Monarch Butterflies' and then there is Lillian's summary of 'How To' (e.g How To Be Calm). There is some fantastic advice in this, and every single one of us could learn something!
Throughout the book there is a mix of short stories (fairies & princesses, legends, tales & adventures), poems and songs – each with their own unique tale to tell. This book is adorable and inspirational, and if nothing else will make you smile. We all love a wonderful and happy story, and Lillian certainly delivers this along with plenty of inspiration and a touch of magic .. Follow this link to read the full review …
Book Review: Where Would You Fly? & Other Magical Stories by Lillian Darnell
Blessings,
Camilla
See It. Share It. BE IT … Spread Love Everywhere You Go!
"Words of Alchemy" has arrived, December 2019! A free-verse poetry memoir covering the last 6 years of my life. The poetry of nature, the poetry of healing, the poetry of appreciation, the poetry of love, in one beautiful book.
Amazing news! My 18 year old daughter, Lillian Darnell's debut book, "Where Would You Fly and Other Magical Stories" was published January 2018. Learn more and order here. 
Wonderfully exciting news! My 14 year old son, Thomas Darnell's book, Biggest Little Photographer is published. Be inspired! Learn more and order here.