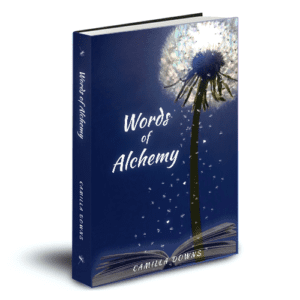 The poetry of nature, the poetry of healing, the poetry of appreciation, the poetry of love … in one beautiful book. (Reviews are near the bottom of this page. Scroll down a bit.)
Words of Alchemy is the poetry memoir of a single mom who travels through the ups and downs of life with reverence and reflection. This book is for those who are in need of uplifting, easy to read poetry that leaves you feeling comforted, inspired, and with a different view of how life can be lived. 
Order a personalized signed book for $14.40 (10% off and includes tax and free shipping).
To order Follow This Link (click here) and enter the total of $14.40 (or more if you'd like to throw in a tip). Want more than one book? Add $14.40 for each book. FOR U.S. ORDERS ONLY. (International orders welcome with shipping costs added. Send an email to Camilla Downs @ gmail . com if you would like a personalized signed book(s) shipped internationally.)
Discount and personalized signed book not available from Amazon. Link for Amazon at bottom of this post.
Book Blurb:
In Words of Alchemy, Camilla Downs invites you to walk with her to share her love of Nature and Life through a heartfelt free-verse poetry memoir.

During her daily strolls she is mindfully present as she delves into life in the raw and experiences her heart's observations.

Camilla embraces what happens when she opens her heart and invites the written words to flow. The Alchemy of Love and Healing is what happens.
Praise for Words of Alchemy
"Words of Alchemy, a heartfelt new collection by Camilla Downs, lives up to its namesake in numerous ways. Downs spans the broad range of nature, healing, love, and parenting, while making sure we have a little fun along the way. And the bridge she creates from the mindfulness of how we see the world at large to the poetry of everyday life is certainly worth a stroll or two across its borders." – Thomas Lloyd Qualls, Award-winning author of Painted Oxen
"This poetry collection offers contemplative words, soothing thoughts and peace to the reader." – Sue Bentley, Bestselling author of Second Skin
"Camilla Downs shares truth, vulnerability and wisdom in her Words of Alchemy collection, inviting readers to be inspired, contemplate and dive into her world of self-awareness and growth." – G. Brian Benson – Award-winning author, actor and spoken word artist
"These poems take you on a calm and loving walk through the verses of the author's thoughts. Alchemy is a perfect word for the title as Camilla Downs understands nature; connecting with its magical, medicinal qualities and beauty which she conveys throughout her poetry." – Ailsa Craig, Author of The Sand Between My Toes
"Words of Alchemy is a chronicle of hope. These poems are an encouragement, especially when we are feeling at our lowest, to keep seeking the light that is our way forward, and focus on the real. This collection is a walk through the positive nature of life. Camilla Downs is to be commended." – Frank Prem, Author of free-verse memoir Small Town Kid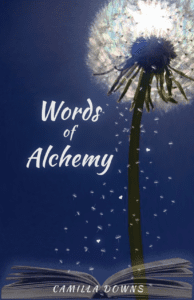 *****************************************************
*****************************************************
Reviews:
"Words of Alchemy is warm and personal, like being invited to sit on the author's couch and listen to her talk to family and friends. Intimate and loving, these poems are a celebration of family, of friends, of life, of nature, and of adaptation."  – Amazon Customer
"A beautiful testament to the love and dedication of a mother to her children, and her personal transformation using nature as a guide and companion. I was instantly transported to zenlike mindfulness by the melodic prose in this beautiful collection. Poems like "Released" will remain with me as a reminder of the healing strength of our connection to nature. The rich imagery and natural metaphors make each piece a standalone daily meditation." – Michelle S.
"I have always loved Camilla's writing. So glad she put it in a book for me, for us, to always have on hand. Her poem form is original and real. I get release and comfort in reading the selections. Godspeed to her and thank you." – Amazon Customer
"What a joy it is to read this gem of a poetry book. Full of beautiful free-verse, a memoir about friends, family, relationships and the love of the nature. This is for you if you enjoy the natural world, (as I do,) if you appreciate poetry that delves into the heart and doesn't hold back. In many ways it is an intimate and brave expression of the author – Camilla Down's – thoughts and feelings." – Marjorie M.
"This book is full of beautiful, inspiring, thought provoking poems about love, nature, acceptance, joys, fun, mindfulness and gratitude! They really pick you up and make you consider your own life and the changes you could welcome to lead a happier, fuller life while reading about Camillas passion and love for nature, family, friends and all the small things that a lot of us take for granted! It's emotive, and lovely and just a stunning read for a day when you may be feeling low! It's a feel good collection of poems that really will brighten your day!" – Lynne P.
"This is an exceptional collection of endlessly expressive free verse poetry, extremely moving and inspirational in a variety of different ways. It speaks of nature, healing, family, heart, unconditional love, joy, harmony in oneself, mindfulness, vulnerability and genuine acceptance of ourselves.
Camilla has approached her life experiences with a gentle courage that unfolds into a celebration of the important things that mean the most to us. Despite all of our negative times and troubles we have to endure, life has so many positive experiences to offer. Camilla navigates her own trials and tribulations when it comes to pain, heartache and sorrow, yet still weaves the words into something incredibly beautiful with every single poem she exuberantly spills on to the page.
Whether her poems are long or short, each one packs so much heartfelt emotion in their exquisitely, passionately sculpted words that you will want to read it a few more times, to absorb its essence and appreciate the purity of words that touch deep within your own soul.
My favourite poem in the collection (it was such a difficult choice, since all of the poems within have something unique to recommend them) was the one written by Camilla with her children Lillian and Thomas (Love is Magical). I had to re-read it a couple of times, as I marveled over what was written and by whom. It was exhilarating how well their different writing styles meshed together and at that point, I could really feel the bond of family between them all.
Buy this book and get taken on an enticing emotional journey that you will never forget."  –  David E.
"A beautiful and heartfelt collection that brings nature into the heart of the family in a very comforting way. The links to the authors children are very endearing and makes the whole book feel 'real', and the poems they collaborate on are wonderful. Recommend for fans of nature poetry, wellness inspiration and especially mothers. Personal favourite would be 'Dance', I love the short and sweet format and the almost fairy-like tone, absolutely lovely." – Megan