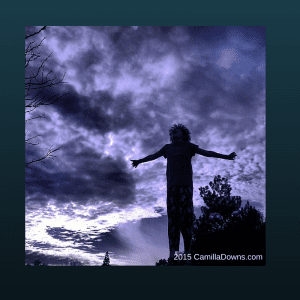 Ever had haunting thoughts that you missed something; that you had all these clues and didn't put them together? Those thoughts that sweep over you and wrap around you like a dark storm cloud? I share this for anyone who needs it.
These words are like landmarks on a map. Landmarks that lead to a deep peace. The words are doing their work if they bring peace to anyone whose eyes and heart they touch.
Recently I had thoughts that I let something slip through the cracks back in 2006 concerning my daughter*, Lillian. In the midst of some huge life changes** I simply "forgot" something. As I began researching, a heavy feeling came over me. Heavy, dark, and sad, with the feeling I had done something wrong.
Thomas, my son, and Lillian could both sense something was wrong so I went to my room to change clothes. While there I burst into tears and cried with thoughts of how with this one piece of the Lillian puzzle I was right back where I was in 2006. I began to feel guilty and then like a victim and then angry ….. And …..
Then I chose to connect with these feelings. I breathed them in. I didn't think about why I felt this way. I focused on the way it felt in my body. Heavy and tight. Within minutes the feeling lifted and I was in a peaceful, quiet state.
I realized that for whatever reason, the timing was not right for this path in 2006. I chose not to dwell on why or what if questions. This is now and that doesn't exist any longer. Something that I would have let carry on for days or weeks in the past (or buried and ignored) was now learned from, felt and processed in half an hour.
Now, I embrace all emotions. They are me. They are us. My thoughts had changed. My perception had changed. I saw it differently. I had just experienced a miracle.
May you let yourself feel what you need to feel, connect with it and have your own miracle today! If you need guidance let me know. So much love to y'all!
Heartfuly Inspired™,
Camilla
See It. Share It. BE IT … Spread Love Everywhere You Go!
Go here to subscribe to my blog to ensure you receive new posts delivered straight to your inbox! Right here!
*Lillian is 13 years old and has a chromosome abnormality called 18p-; which means that she is missing a part of the short arm of chromosome #18. Learn more here.
**I separated from my husband in December 2006 and we were divorced in 2007.
You can learn more about this and my journey up through 2010 in the book, "D iz for Different – One Woman's Journey to Acceptance."
Latest "Mindful Living" Articles:
[catlist name=inspired-living]