**THROWBACK POST**
Homemade gift I made for Thomas. This was great fun! Using a book that was destined for the trash, I randomly opened the book and scanned for phrases to make into a poem. Found Poetry! Challenging! 💜💜💜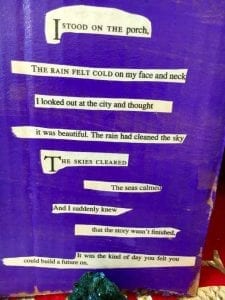 I stood on the porch,
The rain felt cold on my face and neck
I looked out at the city and thought
it was beautiful. The rain had cleaned the sky
The skies cleared
The seas calmed
And I suddenly knew
that the story wasn't finished,
It was the kind of day you felt you
could build a future on.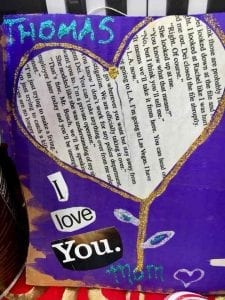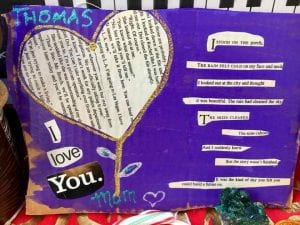 Blessings,
Camilla
See It. Share It. BE IT … Spread Love Everywhere You Go!
"Words of Alchemy", published December 2019, is a free-verse poetry memoir covering the last 6 years of my life. The poetry of nature, the poetry of healing, the poetry of appreciation, the poetry of love, in one beautiful book.
Amazing news! My 18 year old daughter, Lillian Darnell's debut book, "Where Would You Fly and Other Magical Stories" was published January 2018. Learn more and order here. 
Wonderfully exciting news! My 14 year old son, Thomas Darnell's book, Biggest Little Photographer is published. Be inspired! Learn more and order here.