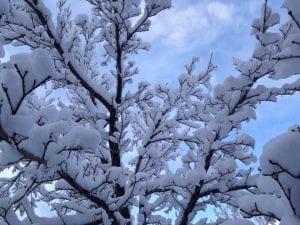 Nature's Abundance
I feel the frosty cold
embrace as You brush
across this body.
I feel and Know
your Abundance.
I touch and hug
the beautiful,
scarred and knotted
trees that sprout
and grow from Your soil.
I feel and Know
your Abundance.
I delight in the sparkling
and unique snow flakes
as they drift from
the brooding clouds
above and lightly fall
upon this body.
I feel and Know
your Abundance.
Lo, even as I dodge
and walk through
the nuggets of
geese waste left
behind by these
majestic and
interesting creatures,
I feel and Know
your Abundance.
Yes, I feel Your abundance
I Know it now.
It's been a long road
getting to this
glorious and bountiful place.
Yet, I have arrived.
I have arrived
to the freedom
of Knowing this …
I am made of bits
and pieces of You.
You are made of
bits and pieces of me.
This body and ether
mix with Your essence
as we collide.
I see it now.
All that is made
of You is Good.
ALL, I say, ALL!
Even as your form is
changed and no longer
resembles Your essence.
It is of You.
And,it is Good.
Humans take and borrow
from you to create,
grow, and make
the things we must
have to survive,
yet also the things
we think we need,
and the things we
simply want so
as to fill a void.
Grateful for your
abundance and gifts
I am.
We take your trees
and metals and we
make this mysterious
and sometimes elusive
thing called money.
We make it into
something it is not.
It is only of
You and we use it
for good, for bad,
for our benefit,
and for the benefit
of others.
One slight shift
in awareness of
what money truly is ..
That is True Freedom.
Freedom to respect
and love that money
stuff of which
contains Your essence.
Knowing, absorbing
and feeling
Your abundance
has brought on
this shift from
lack to abundance.
Thank You
Mother Earth.
Thank You
Nature.
I feel and Know
your Abundance.
You are Abundance.
I Am Abundance.
And so it is.
I Am. – 2018 Lessons from Nature
Blessings,
Camilla
See It. Share It. BE IT … Spread Love Everywhere You Go!
Amazing news! My 16 year old daughter, Lillian Darnell's debut book, "Where Would You Fly and Other Magical Stories" is published. Learn more and order here. 
Wonderfully exciting news! My 12 year old son, Thomas Darnell's book, Biggest Little Photographer is published. Be inspired! Learn more and order here.
Latest Articles:
[catlist name=blog]