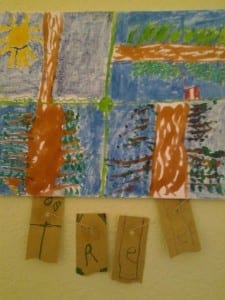 (Thomas' Contribution to the Reiki Room … Artwork titled "Tree")
The other day Lillian made my and her bedroom "fancy". She rearranged the pillows on the beds and added special rocks to the dressers and nightstands. She loves what I've done to the spare bedroom in converting it to a Reiki Oasis Room.
I cleared out some things, added a bamboo plant, candles, rocks and stones. She says it's open and fancy now! HA! Love that she feels rocks add to the fanciness of a room!