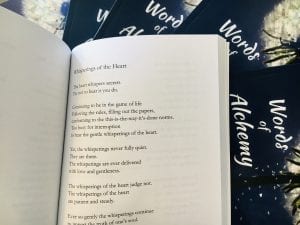 Whisperings of the Heart
The heart whispers secrets
Try not to hear it you do.
Continuing to be in the game of life
Following the rules, filling out the papers,
conforming to the this-is-the-way-it's-done norms.
Too busy for interruption
to hear the gentle whisperings of the heart.
Yet, the whisperings never fully quiet.
They are there.
The whisperings are ever delivered
with love and gentleness.
The whisperings of the heart judge not.
The whisperings of the heart
are patient and steady.
Ever so gently the whisperings continue
to impart the truth of one's soul.
At times the whisperings grow louder
At times they are heard with deeper clarity.
In youth the whisperings were strong
and vibrant with a deep knowing.
As the years passed the whisperings
were quieted by the outside world.
As the seconds pass
as the minutes pass
as the hours pass
as the days pass
as the months pass
as the years pass
as the decades pass
Ever faithful and resilient
the whisperings settle into the
unconditional love of one's heart.
Awaiting the precious time
to once again whisper the
knowings of one's soul.
That time does indeed arrive.
Uninvited, invited,
unexpected, expected.
With struggle, with joy
With peace, with pain.
Yet, it does arrive.
The veil of illusion
begins to lift.
The whisperings of the heart
awaken to the light allowed
to penetrate.
Begin to listen, one does.
Listen with clarity.
Listen with knowing.
Listen with deep understanding.
Begin to take action, one does.
Yet, many times still ignoring
the whisperings of the heart.
The pull of the way life is
supposed to BE lived is strong.
It arrives.
It brings enlightenment.
The day of realizing the
whisperings of the heart
bear the key
to one's freedom to live
and serve as one has always known
one was meant to BE.
Free to sing the song
of one's soul.
Free to step out of the
board game of conformity
Free to shine the Pure Light
the whisperings of the heart
have always shone from within.
Free to share Divine
Unconditional love
to all beings.
Free to listen and live
the whisperings of the heart. – ©Camilla Downs
Blessings,
Camilla
See It. Share It. BE IT … Spread Love Everywhere You Go!
"Words of Alchemy", published December 2019, is a free-verse poetry memoir covering the last 6 years of my life. The poetry of nature, the poetry of healing, the poetry of appreciation, the poetry of love, in one beautiful book.
Amazing news! My 18 year old daughter, Lillian Darnell's debut book, "Where Would You Fly and Other Magical Stories" was published January 2018. Learn more and order here. 
Wonderfully exciting news! My 14 year old son, Thomas Darnell's book, Biggest Little Photographer is published. Be inspired! Learn more and order here.