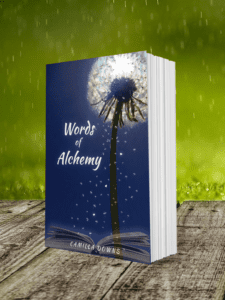 In October, I had the pleasure of being a guest on Richard Dee's, The Indie Showcase.
"One genre I never gave much attention was that of poetry. Much of it left me dazed and confused! I never in my wildest dreams could have known that one day in 2013, poetic words would begin to populate my mind and demand to be set free. So began a 6-year streak of writing poetry inspired by my near-daily walks, by nature and by my life experiences …. "
Follow the link to read the poem, "The Lure of Books", and more of what I shared with Richard. Thanks to Richard for his support of Indie authors!
You can pre-order the book here. Much love to all for the support and kindness!
Blessings,
Camilla
See It. Share It. BE IT … Spread Love Everywhere You Go!
Coming Soon!! "Words of Alchemy" is the latest book coming to life! Coming Fall 2019.
Amazing news! My 18 year old daughter, Lillian Darnell's debut book, "Where Would You Fly and Other Magical Stories" was published January 2018. Learn more and order here. 
Wonderfully exciting news! My 14 year old son, Thomas Darnell's book, Biggest Little Photographer is published. Be inspired! Learn more and order here.