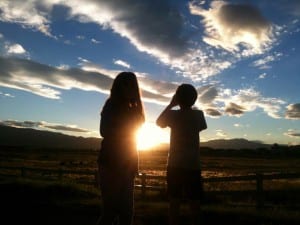 (Thomas and Lillian during one of our sunset walks .. August 2013)
Children are educated by what the grown-up is and not by his talk. -Carl Jung
I was in a big box store last Wednesday afternoon and what I heard and saw over and over settled into me. I felt compelled to share some thoughts ….
Thomas, Lillian and I were invited to participate in Operation School Bell which was sponsored by our local Assistance League. This program allows a family to shop for school clothes for their child or children at a big box store on a specific date during a specific set time. Being a part of this was a wonderful experience and I am grateful to Assistance League of Reno-Sparks and the store that facilitated and hosted the event.
As you can imagine there were a lot of children there with their parents. Some of them were not on their best behavior. That's not what settled in with me. It was the parents response and behavior towards their kids. I heard the most unkind comments directed towards these kids. I do not walk in these people's shoes so I attempted and still do attempt to remain non-judgmental about the situation. I do, however, ponder about it.
Yes, the kids were acting wild and crazy. Why? Could it possibly have to do with how their self worth has been fed during the first 6 years of their lives? Could it have to do with the tone with which they have been spoken during the early years of their lives? Could it have to do with whether or not they have been given choices from the moment they were able to do so? Could it have to do with whether or not they have been given an audience with their parents or loved ones when they needed or wanted it? Have they learned that their thoughts and opinions matter? In the early years of their life, were they treated with love, kindness and compassion as another living soul even though they were in a little baby body, then a toddler body and then a young child's body? Could it have to do with what they eat and have eaten all of their lives? Could it have to do with how much they watch television or use electronics, now and since their birth? Could it be the interactions between the adults in their lives that they have observed and do observe every day?
These are just some thoughts I pondered that evening. They were very strong thoughts and it seemed I could not move on from thinking about this. For me, that meant it was something I was supposed to share with whoever wants to read about it.
I don't know the answer but I do know this. When I look at my kids, 7 year old Thomas and 12 year old Lillian, I see another person and soul before I see that they are children. Most times, I convey to them that they matter and what they want or need to share with me matters by stopping what I'm doing, getting to their level and listening. Now, I am human, so there are times when I forget this. I attempt to never discount what they have just shared. I carefully craft my response if I feel something they have shared is erroneous. What I'm saying is that I don't say things like "That's stupid. That will never work. That's not right. You're wrong." I have incorporated bits and pieces of Love and Logic Magic for Early Childhood: Practical Parenting From Birth to Six Years (amazon affiliate link) since Lillian was 2 years old. I mix it up with my own style of parenting.
I am absolutely human and I don't always do this. I have moments where I choose to let thoughts of "I'm too tired", "I don't want to do this or be here" or "I wish they would just leave me alone"! I feel as long as we are having more of the previous moments rather than the latter we are fulfilling our role as parents or caregivers magnificently!
Honestly, since these two came into my life and since becoming a single parent I have had a complete 100% turn in what was to be my parenting style. Children should not only be seen, but heard and made to feel important. Not important because they got good grades or won their game or made the team … Important because they exist and they have something special and unique to offer this World.
Just my thoughts and just something for others to ponder.
Let parents bequeath to their children not riches, but the spirit of reverence. -Plato

This article is now part of my inventory in Inspired Living.

I enjoy taking the time to share information with y'all that I think is helpful and give you ideas to live an Inspired Life. So, if you feel this helped you in any way, toss a tip into the tip bowl on the way out of Inspired Living.

If you can't afford to donate, please feel free to pass this article along to others who might get some help from it. Thank y'all to everyone who has donated and shared in the past. I don't always get a chance to respond, and the donations, shares and comments are my indicators that what I share is helpful. Thank YOU!