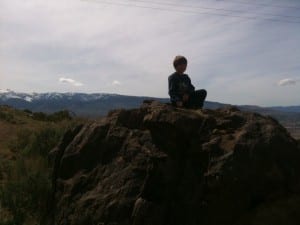 I quite often toss around the word "mindfulness" on this blog. I sat down today to write a post with tips for mindful parenting. As I began to write, I realized that I had never researched and shared with you what mindfulness really means. I'd like to do that first. Then, I'll come back to writing the mindful parenting post.
First, let's see what you think about mindfulness. Does it bring up negative or positive feelings, or neither? Take a minute or two to write down what comes to mind when you hear the word, "mindfulness". Then, read the research I've shared and see if your view changes or stays the same.
Mindfulness has its origin in ancient meditation practices. According to Dictionary.com the term mindful originated in late Middle English around 1375 and is defined as being attentive or aware. Before that, in 1200, was a now obsolete term of mindiness. It's not clear from researching online, but the term mindfulness seems to have been translated from the Pali word of sati which literally means "memory" and from the Sanskrit word of smrti which means "that which is remembered".
According to The Greater Good Science Center at the University of California, Berkeley: "Mindfulness means maintaining a moment-by-moment awareness of our thoughts, feelings, bodily sensations, and surrounding environment."
Jon Kabat-Zinn launched the Mindfulness Based Stress-Reduction Program (MBSR) at the University of Massachusetts Medical School in 1979. Per The Greater Good Science Center, since that time, thousands of studies have documented the physical and mental health benefits of mindfulness in general and MBSR in particular.
Here's a two minute clip of Kabat-Zinn describing mindfulness.
Now that we've got an idea of what people mean when they use the word "mindfulness", what does it mean to be mindful? Here are a few examples:
When washing the dishes, bring your thoughts to what you're doing. This one is difficult for me, but I still try to do it! Think about how the water feels on your hands, how the dish feels, the smell of the soap, the sound of the water. What are you feeling in this moment?
When preparing dinner focus on each step. If you're cutting vegetables, put your awareness on the sound, feel, and sound of the knife cutting and chopping. What are you feeling in this moment?
Another I struggle with …. When someone is talking to you (in my case, one of my kids, Thomas or Lillian), focus on that person. Look into the person's eyes (or near the eyes) and really hear each word they say. Try not to think about what you'll be cooking for dinner, where you'll get the money to pay that unexpected bill, or what's gonna happen next in the show you're watching or the book you're reading. Sending the person love while listening helps to stay focused on listening to what is being shared.
Matthew Tull, PhD shares on About Health's PTSD website 4 skills of mindfulness. They each require practice. Briefly described here:
Awareness: Focus your attention on one thing at a time.
Nonjudgmental/Nonevaluative observation: Look at your experiences in a nonjudgmental way. Don't label as "good" or "bad".
Being in the Present Moment: Don't get caught up in thoughts about the past. Be an active participant in experiences rather than simply going through the motions.
Beginner's Mind:  Be open to new possibilities and observe things as they truly are, as opposed to what you think about it.
The Greater Good website has a wonderful mindfulness quiz. It only takes about 2-5 minutes to complete. Once you're done you'll find out just how mindful you are and get suggestions for how to increase mindfulness. Go here ⇉ Greater Good Mindfulness Quiz for the quiz.
Here are my results:
"Your mindfulness score is 64 out of 100, suggesting you have a moderate tendency to practice mindfulness. This score reflects two key components of mindfulness: your moment-to-moment awareness of your thoughts, feelings, and environment, as well as your acceptance of these aspects of your life.
Your score suggests you sometimes feel accepting and non-judgmental toward yourself, which means that you allow yourself to experience a range of thoughts and feelings, even if they're upsetting or challenging at times. You don't always believe there's a "right" or "wrong" way to think or feel in a given moment. However, you still occasionally seem to be self-critical, which can make you feel defensive, anxious, or sad.
Also, you're not always able to focus your awareness on the situation at hand; you're sometimes preoccupied with the past or worried about the future. When you do maintain this focus, you may notice that you're more open and inquisitive and can savor being in-the-moment.
Research suggests you can cultivate more acceptance by practicing loving-kindness meditations that encourage you to be more compassionate toward yourself."
Psychology Today has a great list of 6 mindfulness exercises that take less than a minute. Perfect for the person just getting started and who may feel there's just no time for longer exercises. This article titled, Mindfulness in Everyday Activity, from National Federation of the Blind lists a great exercise with a cup of tea and gives a few more mindfulness details and how it helps with stress.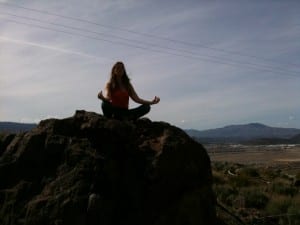 Also, I just picked up a book from the library titled, 10 Mindful Minutes, by Goldie Hawn. Can't wait to dive in and start reading it! Seems like it will have some useful information. I'll write a review of it when I'm finished.
What I find useful about this are the examples of exercises and the mindfulness quiz. What do you think? Will you try any of these or do you have your own tips? Do you have any other thoughts or questions about mindfulness?
Latest "Mindful Living" Articles:
[catlist name=inspired-living]
Heartfuly Inspired™,
Camilla
See It. Share It. BE IT … Spread Love Everywhere You Go!
Go here to subscribe to my blog to ensure you receive new posts delivered straight to your inbox!
My next newsletter is going out the week of October 20th! The newsletter will contain four basic sections with a short introduction. They are:
Mindful Minute – A quote, thought, or mini-exercise to inspire you, spark an "aha" moment, or to ignite your creativity.
Latest News – A brief excerpt of my latest blog posts.
Suggestions Spotlight – A suggestion of items I find useful; such as a book, essential oil, classes/workshops, or other items I find to be helpful.
Recipe Spotlight – I'll include a recipe periodically.
Go 
here
 to sign up to receive a copy in your email inbox!
Have you ordered your copy of my book, "D iz for Different"? It's available in paperback and Kindle (Kindle device not necessary). Go here to learn more.
(To help support my blogging I will include an Amazon link to items I use or you will see google ads from time to time. I LOVE sharing my journey and choices with you and this just helps to keep me going!)