January 18 2023
The sky this afternoon. I wonder what tonight's weather has in store?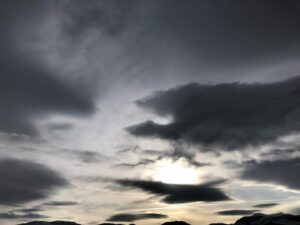 Thank you for the loving kindness. I've written this sentence many times over the past couple of days. Last night I read a passage in a book I'm re-reading that stood out. I thought I'd share it with you.
"Loving-kindness is bringing happiness to other persons; compassion means relieving their suffering. The key that opens the door to loving-kindness and compassion is our capacity to understand our own suffering and difficulties, and the suffering and difficulties of others."
I'm deeply grateful to everyone who has shared love, hugs, kind words, and donated. Your loving kindness and compassion mean so very much. Thank you, thank you, thank you. xoxo
https://www.gofundme.com/f/help-team-tlc-get-a-car
Blessings,
Camilla
See It. Share It. BE IT … Spread Love Everywhere You Go!
"Words of Alchemy", published December 2019, is a free-verse poetry memoir covering the last 6 years of my life. The poetry of nature, the poetry of healing, the poetry of appreciation, the poetry of love, in one beautiful book.
Amazing news! My 21 year old daughter, Lillian Darnell's debut book, "Where Would You Fly and Other Magical Stories" was published January 2018. Learn more and order here. 
Wonderfully exciting news! My 17 year old son, Thomas Darnell's book, Biggest Little Photographer is published. Be inspired! Learn more and order here.