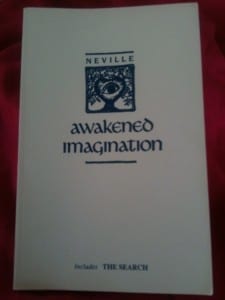 …. Rivers, Mountains, Cities, Villages,
All are Human, & when you enter into
their Bosoms you walk
In Heavens & Earths, as in your own
Bosom you bear your Heaven
And Earth & all you behold; tho' it
appears Without, it is Within,
In your Imagination, of which this World
of Mortality is but a Shadow.
William Blake
I discovered this absolute gem of a book, Awakened Imagination/the Search (amazon affiliate link), by Neville, in the used book store. I had heard the name Neville mentioned by Wayne Dyer in his audio, Making the Shift: How to Live Your True Divine Purpose (amazon affiliate link).
It's a quick read at only 94 pages. Awakened Imagination is best read without interruption or distraction and some place quiet. Yes, it is deep, deep, deep. If I had tried to read the book before this year, I may have been scratching my head. That's the beauty of these types of books. If we don't get it the first time around, we stick it back on our shelf and pull it out again later.
Definitely an enlightening book about our imagination and how it is the creator of our World. I enthusiastically suggest getting this one when you have the opportunity. If it leaves you scratching your head, just put it on your bookshelf and pull it out again 6 months or a year from now. Have fun!
"Imagination is more important than knowledge." –Albert Einstein