I'm a member of an author/book reader facebook group, and the admins ask great questions. I decided to turn some of the questions into a "get to know me" series. I would also love to hear your answers to the questions posed in the series. Thanks Helen for asking such fun questions!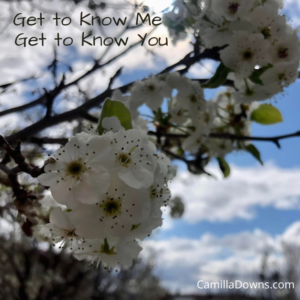 What happens in your country/town/area regularly that people in most countries would find strange or bizarre?
I don't support or condone it, but there's a yearly Camel Race in Virginia City.
Nevada is also the home of Burning Man; which I'm sure some think is strange and bizarre. I've never been as I'm not into suffocating in the dry heat of the desert, with being devoured by the sand on top of it. We do get the benefit of receiving some amazing art pieces that are put on display throughout Reno, after the event.
What about you?
Blessings,
Camilla
See It. Share It. BE IT … Spread Love Everywhere You Go!
"Words of Alchemy", published December 2019, is a free-verse poetry memoir covering the last 6 years of my life. The poetry of nature, the poetry of healing, the poetry of appreciation, the poetry of love, in one beautiful book.
Amazing news! My 20 year old daughter, Lillian Darnell's debut book, "Where Would You Fly and Other Magical Stories" was published January 2018. Learn more and order here. 
Wonderfully exciting news! My 16 year old son, Thomas Darnell's book, Biggest Little Photographer is published. Be inspired! Learn more and order here.