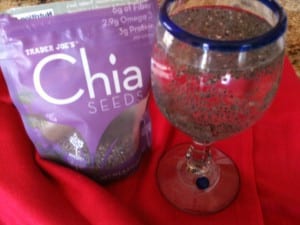 These awesome little seeds are rich in dietary fiber, protein and Omega-3's … in one little ole tablespoon! That's a ton of nutrition naturally present in such a small serving!
I adapted this No Cook Chia Seed Pudding from the back of the package for Trader Joe's Chia Seeds (amazon affiliate link) … which are also the Chia Seeds I buy.
Combine:
1/4 cup of Chia Seeds
1 Cup of Almond Milk (I use Trader Joe's Unsweetened Vanilla. I've tried at least 4 or 5 different brands and I like this one the best.)
1/4 cup of local honey, agave syrup or Grade B Maple Syrup (I alternate on this so it will have a bit different taste each time. Try less even!)
Dash of Gluten-Free Vanilla Extract and or any other flavors, like citrus juices or a drop of your favorite essential oil. Experiment. Be creative! Get Wild! … and …. Have FUN!
Refrigerate for at least 2-3 hours. Turns into a perfect no cook pudding!! Reminds me of tapioca pudding y'all!
**LOVE OFFERING** If you find this content helpful, I invite you to toss a tip in the love offering bowl. With oceans of gratitude … Camilla ….
I also like sprinkling chia seeds on my salad and into my water! The chia seeds give the salad a great crunch. I LOVE the way they swell in the water and the texture and feel of the seeds when drinking my yummy Chia Seed Water!
Blessings,
Camilla
See It. Share It. BE IT … Spread Love Everywhere You Go!
Did you know I wrote a book? It's titled "D iz for Different – One Woman's Journey to Acceptance" and you can read more about it here.
Latest Articles:
[catlist name=blog]
Go here to subscribe to my blog to ensure you receive new posts delivered straight to your inbox! Right here!