I was searching on the iMac for a drawing of Lillian's that she created in 2012 titled "Hot Air Balloon". I searched 3 times and the only item that came up was a Pages document titled "My New Life". Opened it up, read a little section, and thought it was one of these documents that comes pre-programmed with a sample story. I was also thinking, "Wish I had time to read more of that. It sounds good!" Closed, searched again, and the same document came up once again. Opened it, read more and realized it's something I had written in 2008!
Here's what grabbed my attention the first time around:
Monday, July 14, 2008
I have since realized regarding the above that I was not merely looking for my keys. I was looking for my faith. That's why I was so determined to find those keys and why my prayers were answered. When I found those keys I found my faith that everything will be okay and reinforced that I will NEVER GIVE UP.
The reason I initially thought it was a pre programmed story is that it still had the latin heading with a stock photo of 2 women:
Eodem modo typi nunc
Lectorum diam metus, lobortis eget, tincidunt egdb tristique, porta id, felisauris vulputate blandituth nibhroin id ante. Nam massa justo gravida aliquet commodo nontincidunt nibhroin idante.
Once I realized it was my writing, I simply had to go back and read "the above".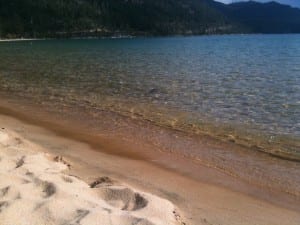 Monday, July 7, 2008
Went with ____ to take Thomas and Lillian to Lake Tahoe to see boats and throw rocks.  Thomas and Lillian were having so much fun & so joyful to be seeing all the boats and throwing rocks and seeing the parasail and airplanes.  Thomas was chattering excitedly the entire time.  I lost the keys to the car in the sand and was determined to find them.
We looked for about 20 minutes and called mom and Frank to bring the extra set. Kept looking more and then ______ took Thomas and Lillian to a nearby restaurant as they had gotten tired and hot. I was going to look one more time.
I was tired, hungry and hot and every time I stood up from kneeling; everything went black for a minute. The rocks were burning my hands and digging into my knees. I was praying for help to find the keys saying that I deserved to find the keys and I was ready to accept help now.
Right about then a couple came up near me with their dog. They laid out their blanket and the woman was going to walk with the dog. She stopped to ask if I had lost something. I explained to her and that if they found a set of keys to take them to the restaurant. We talked some more about it and I got to where I had previously determined to stop. Then the husband asked about it. He was standing in front of me next to the water, looked down, picked up the keys and handed them to me. I gave him a hug, thanked them very much and said they were meant to be there at that very moment! Whew! I was so grateful that I could have popped.
(I had the feeling I wasn't going to find them until ______ was gone because he kept saying he didn't think they were there and he had already looked there. I knew it would have to be after he left that they were found.)
It wasn't just about finding the car keys back in 2008 and it wasn't just about finding Lillian's drawing a few days ago. This was a divine reminder to trust my inner Self.
Trust Your Self. You know …
Heartfuly Inspired™,
Camilla
See It. Share It. BE IT … Spread Love Everywhere You Go!
Go here to subscribe to my blog to ensure you receive new posts delivered straight to your inbox! Right here!