I'm a member of an author/book reader facebook group, and the admins ask great questions. I decided to turn some of the questions into a "get to know me" series. I would also love to hear your answers to the questions posed in the series. Thanks Helen for asking such fun questions!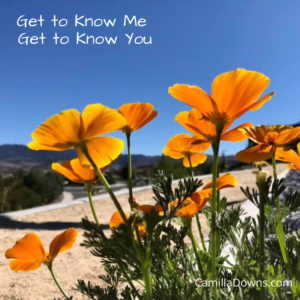 If you had a warning label, what would yours say?
Warning: Do not tell this one what she can or cannot do. Don't be fooled. She will politely smile, and then do what she was told she could not do.
This one has a solid BS detector as well as an intense aversion to spending time with anyone who attempts to manipulate or take "No" for an answer.
This one is also very clumsy. Beware of cherished items near her. You may want to wear ear plugs when in her company, as she laughs loudly, and swears very much.
What about you?
Blessings,
Camilla
See It. Share It. BE IT … Spread Love Everywhere You Go!
"Words of Alchemy", published December 2019, is a free-verse poetry memoir covering the last 6 years of my life. The poetry of nature, the poetry of healing, the poetry of appreciation, the poetry of love, in one beautiful book.
Amazing news! My 20 year old daughter, Lillian Darnell's debut book, "Where Would You Fly and Other Magical Stories" was published January 2018. Learn more and order here. 
Wonderfully exciting news! My 16 year old son, Thomas Darnell's book, Biggest Little Photographer is published. Be inspired! Learn more and order here.