Thank you to Chantelle Atkins for this lovely, glowing review for Words of Alchemy!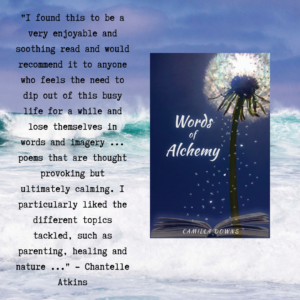 I found this to be a very enjoyable and soothing read and would recommend it to anyone who feels the need to dip out of this busy life for a while and lose themselves in words and imagery. The author does a fantastic job of penning poems that are thought provoking but ultimately calming. I read this in a few sittings and came away feeling soothed and replenished each time. I particularly liked the different topics tackled, such as parenting, healing and nature, and I really feel there is something for everyone in this collection. – Chantelle Atkins
You can learn more about Words of Alchemy by going here …
Blessings,
Camilla
See It. Share It. BE IT … Spread Love Everywhere You Go!
"Words of Alchemy", published December 2019, is a free-verse poetry memoir covering the last 6 years of my life. The poetry of nature, the poetry of healing, the poetry of appreciation, the poetry of love, in one beautiful book.
Amazing news! My 19 year old daughter, Lillian Darnell's debut book, "Where Would You Fly and Other Magical Stories" was published January 2018. Learn more and order here. 
Wonderfully exciting news! My 15 year old son, Thomas Darnell's book, Biggest Little Photographer is published. Be inspired! Learn more and order here.