"The meaningful question is never what we did yesterday, but what we have learned from it and are doing today ….. No one can help with anything like someone who has been through the pain themselves." – A Return to Love by Marianne Williamson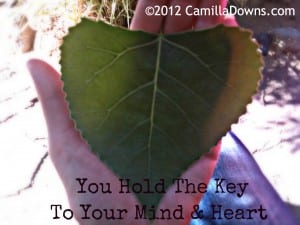 Why do I write on this blog?
I feel it is my purpose to help others by openly sharing my own life experiences. Specifically, how to heal oneself and how we relate to the children of the world and the effects of this relation from an adult perspective.
I know if I am urged to write something, what I share will help others either not go through the un-lovely experiences I've had or will help others through un-lovely experiences. I write about mindful living, simplicity, gratitude, and emotions. Additional topics are self-love, emotional connection, compassion, self-awareness, loving-kindness, self-actualization, special needs parenting, living in a tiny home, and resiliency. I also share book and movie musings, nature photography, and recipes.
So many children have an early and teenage life full of emotional neglect and harsh self-talk. I know. Because I was one of those children. I'm not speaking of purposeful emotional neglect. I'm speaking of not being taught what to do with my feelings and having those around me not know what to do with their own feelings.
My parents loved me. I was fed, clothed, and pretty much got my heart's desire. Yet, I morphed into a people pleaser, and bearer of negative thoughts to myself.
I was not taught to love myself or to value who or what I am. Emotions and living in the present moment were never discussed. There was a great deal of arguing amongst the adults in my life …. sometimes violent arguing. I never wanted to upset others and only wanted those around me to be happy. I walked around anxious that I say the right thing, in the right way so that others liked me.
I'm absolutely not saying that my parents were wrong. I dearly love them and I know they were doing the best they knew how to do. For whatever reason, I was the way I was.
"What lies behind us and what lies before us are tiny matters compared to what lies within us." – Ralph Waldo Emerson
My mind was constantly analyzing things and processing according to how I was viewed in the eyes of others. In some instances, I did not speak up for fear of drawing negative attention to myself or how it would make others feel. And in other instances I hooked into the drama of the situation, big time! As I became an adult my response to life was a mixture of both of these. I didn't let my unique essence shine through.
I feel if we practice the following we will heal ourself and the world's children will continue to have the self-love they are born with, to feel secure, to feel loved, to feel successful, and free to be who they are ……. LOVE.
truly love ourself and model that love

practice mindfulness in our own realm and lovingly share mindfulness with our kids

learn emotional connection and model and teach it to our kids

practice gratitude and model and teach it to our kids
It's not in my nature to tell people they are doing something right or wrong, or to teach them how they should or shouldn't be doing something. Nor, do I dish out tough love. That has never been in sync with my heart. If it works for you, then wonderful!!
What do I "do"?
Short Version: I help you love your SELF and be at PEACE ….. and that spreads to your family, friends, neighbors, and all beings.
I am to let my life be an example. One for which others can apply what is in sync with their heart and simply ignore what's not in sync. I share through this blog, facebook, my first book, "D iz for Different", and speaking to groups.
Topics discussed when speaking are:
mindfulness
self-love
gratitude
emotional connection
compassion
self-awareness
loving-kindness
self-actualization
resiliency
special needs parenting
how to decrease stress and worry
how to notice when you get "hooked" by drama
how to increase self-confidence
I freely explain and share lessons I've learned and practices I use that work for me and my family. If needed, I listen with love and compassion and intuitively share thoughts and examples from my own life.
I do not claim to know the One Way, or One Size fits all approach to living a joyful, peaceful life. I'm not trying to convince anyone of anything. I am to work with and help those whose heart urges them to connect with me and to learn more. I am to hold a nurturing space for those who feel moved by what I share so they can discover what it means to love oneself and to awaken who they truly are within …… magnificence and LOVE.
Please go here if you are interested in having me speak at your event or gathering.
"Until we understand what is within, we can't understand what is without." – Anita Moorjani
Blessings,
Camilla
See It. Share It. BE IT … Spread Love Everywhere You Go!
Latest Articles:
[catlist name=blog]
Go here to subscribe to my blog to ensure you receive new posts delivered straight to your inbox! Right here!