Life is Not the Stories We Tell Ourselves
"Do not expect others to follow your way. When things always go your way, it is easy to become arrogant." -The Treatise on the King of Treasures Samadhi
Sunday, May 13, 2018 was Mother's Day in the United States. It was the worst Mother's Day I can remember experiencing.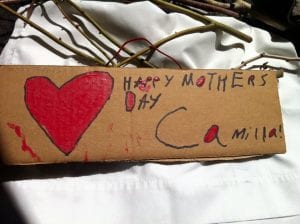 I'm writing this, I'm sharing this, for those amongst us whose hearts were covered and weighted with sadness. As I know not everyone had a great and blessed day being showered and pampered with love by themselves or loved ones.
Thomas had just returned to Reno from his visit with The Romano Duo (grandparents) in Arizona. He had much blunt and forthright thoughts to share about how unhappy he is with our situation and with Lillian's inflexibilities and anxieties. I grabbed that hook and sank into a deep sadness of telling myself how much of a failure I am at providing for my kids, how much of a failure I am at being their parent.
(Let me add here that I do not blame Thomas. I have raised him to be honest and to openly share his thoughts and opinions with others. Usually he is thoughtful with his word choice when doing so.)
I awoke to no cards, no hugs, no smiles at any time during the day. I am not one to expect store bought gifts; yet, I have always loved the handmade notes, cards and art Thomas and Lillian have given me. I'm sure a wee bit has to do with them getting older and moving out of this stage of their lives. Mostly this stung so badly due to the deeply sad state in which I had sunk. I maneuvered through the day with a heavy and painful body shrouded by a fog of sadness and confusion.
"As we experience adversity in our lives, we mature and become more understanding. Just remember that the person who has made your life difficult today could be an undercover teacher sent from above, tasked with your spiritual growth." -The Things You Can See Only When You Slow Down by Haemin Sunim
Throughout the week Thomas and I talked about the things he shared. And, Monday and Tuesday followed with incredibly healing walks and messages from nature.
I also had a deep realization and reminder that life is NOT the stories we tell ourselves. Things happen. Period. Words are spoken. Period. Seasons change. Period. Life continues. Period. All grow older. Period.
If we can remember to end each of these at the period and not ruminate with stories beyond the period; we deflect much suffering for ourselves.
Nature's Messages
…. from a walk this Monday morning …… Reflections. Cloudy and clear at the same time? Ahhhh. Such is it.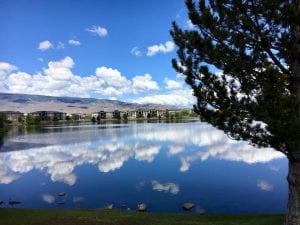 Don't hold onto it. Let it roll right off your back.
Nature always has a perfect message for us when we stop, be quiet, and listen. I mean, look at those cute little water droplets. How could I not stop, take it in, and capture the moment? …. from a walk this morning …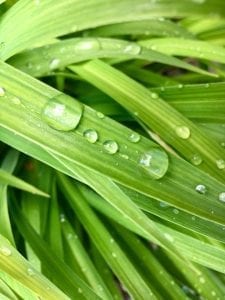 This found me on a walk. Lots of goose quills around, yet have never seen two like this before.
I just had the chance to research online a bit and found that the quill of a goose has long been a preferred writing instrument. Apparently it awakens the imagination and intuition flows. The writer travels through time capturing stories of past, future and present.
I'll take it! Time to write more. I'll imagine my fingers are goose quills and that I'm writing like the wind as I type. My fingers and hand begin to hurt after about 5 minutes of handwriting so I just can't do it.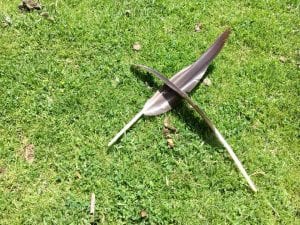 Alchemy Happens
By the end of the week the sadness had fully lifted and Thursday evening brought a tremendously huge aha moment bringing even more clarity (blog post to follow about this – if it feels right, sign up to receive blog posts via email should you not want to miss new blog posts).
Friday was a beautiful, light, and joyful day. Thomas and I had a great time on our May 2018 date day going out for lunch and then to Little Washoe Lake for digging in the sand and playing with a huge piece of driftwood.
After all of this and after writing this, I am able to come back around and say, "2018 was an uneventful Mother's Day. I did not receive homemade gifts from my kids." Period. No stories or harsh self talk to follow. No stories of "worst Mother's Day ever". 
I do not share this to cause others to feel badly. It is my hope that your heart overflows with gratitude that these are not lessons you need to learn and to have compassion for others. I share because sharing is what I do. And, I know the person who needs to receive this message will receive it.
Everything is going to be okay.
Blessings,
Camilla
See It. Share It. BE IT … Spread Love Everywhere You Go!
Amazing news! My 16 year old daughter, Lillian Darnell's debut book, "Where Would You Fly and Other Magical Stories" is published. Learn more and order here. 
Wonderfully exciting news! My 12 year old son, Thomas Darnell's book, Biggest Little Photographer is published. Be inspired! Learn more and order here.
And my book published in 2012, D iz for Different – One Woman's Journey to Acceptance; which reached #2 in the Self-Help Category and #1 in Special Needs Parenting on Amazon.
Latest Articles:
[catlist name=blog]