2017 Christmas Gift to The Romano Duo (My Mom and Step-Father)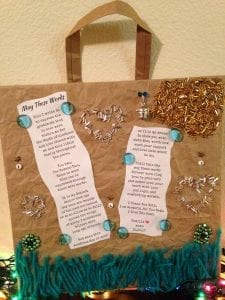 May These Words
This I write to
to express the
gratitude that
is ever more
within me for
the depth of kindness
and love shared with
me and this little
family throughout
the years.
You two,
The Romano Duo,
Bless us more
than can be
expressed through
these mere words.
It is my deepest
desire that one
day soon the wounds
of the past are healed
so as to allow me to fully
spread the wings
of glory I mistakenly
believed were
long ago clipped.
And when this
wondrous day is upon
us it is my dream
to show you with
more than words how
much your support
and love have meant
to me.
Until this day
may these words
forever more ring
true to your ears
and settle upon your
heart with love
and light and
comforting warmth.
I Thank You Both.
I am Grateful for You Both.
I Love You Both.
Camilla 💖
xoxo
12.25.17
I love creating with recycled items! Grocery bag handle for hanging, crumpled packing paper wrapped around a thick piece of cardboard that was inside of a new wall calendar.
Poem written by me, glass stones, sun and hearts of silver and gold beads, three dragonflies with the letters T,L,C, and flower of dark green pearl beads and blue crystal bead, and yarn grass. Lastly a heart prayer box locket with a tiny gold heart in it. (Team TLC colors are blue and green.)
Blessings,
Camilla
See It. Share It. BE IT … Spread Love Everywhere You Go!
Amazing news! My 16 year old daughter, Lillian Darnell's debut book, "Where Would You Fly and Other Magical Stories" is published. Learn more and order here. 
Wonderfully exciting news! My 12 year old son, Thomas Darnell's book, Biggest Little Photographer is published. Be inspired! Learn more and order here.
Latest Articles:
[catlist name=blog]