I'm a member of an author/book reader facebook group, and the admins ask great questions. I decided to turn some of the questions into a "get to know me" series. I would also love to hear your answers to the questions posed in the series. Thanks Helen for asking such fun questions!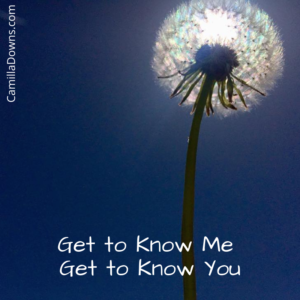 How handy are you when it comes to fixing things?
I'm actually pretty good at it. Unless it's a huge job. I'm like an improvising MacGyver with long blond hair! If I don't have what's needed to fix it, I figure out a way. I've been a single parent for the last 15 years, so it was a necessity to figure things out. Duct tape is amazing! I've duct taped my driver's side mirror on, and used the tape in the first aid kit in the car to tape my brake light on! Hahaha!!
I crack myself up! Seriously, the things I have created and fixed over these past 15 years blows my mind. I am a ninja improviser, I will make things work with what I have. Now that I have some wiggle room financially, I will sometimes stop and think, "Why are you still using this, or doing it this way? You can afford to buy whatever is." However, the improvising part of my brain is deeply entrenched now, after 15 years. I like that about myself. At least my kids are impressed by the things I've done and continue to do. Hahaha!!
What about you, how handy are you when it comes to fixing things?
Blessings,
Camilla
See It. Share It. BE IT … Spread Love Everywhere You Go!
"Words of Alchemy", published December 2019, is a free-verse poetry memoir covering the last 6 years of my life. The poetry of nature, the poetry of healing, the poetry of appreciation, the poetry of love, in one beautiful book.
Amazing news! My 19 year old daughter, Lillian Darnell's debut book, "Where Would You Fly and Other Magical Stories" was published January 2018. Learn more and order here. 
Wonderfully exciting news! My 15 year old son, Thomas Darnell's book, Biggest Little Photographer is published. Be inspired! Learn more and order here.