**THROWBACK POST**
On Monday, September 21, 2017, I had a STRONG feeling I needed to get a hair cut. I messaged a friend hairstylist and asked if she had any openings this week as my hair felt "heavy".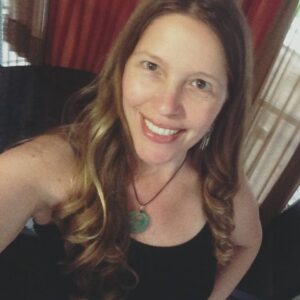 (Took a photo to show the beautiful pampering Kathy gave me as this ain't happening by my hands! Two pictures from my morning walk this morning as the curls were still there!)
I woke up yesterday feeling grumpy, angry, and feeling defeated. In the afternoon I went to see my friend Kathy to get my haircut. We had meaningful conversation while she did her magic and then she decided to curl my hair.
I don't even own a curling iron so this never happens and won't happen again until I see her again. With her gift of pampering and loving kindness I left feeling incredibly lighter!
After what happened the rest of the day yesterday and today, I now know she didn't just cut off hair; she cut off so many things that were weighing heavy on me. Things that had risen to the surface and were ready to go! Gone! Poof! Just like that! Now I know why I felt so strongly that I needed to get a haircut!
I went straight from there to the library volunteer job as Lillian could not go since her knee is still healing from the fall on Friday.
I felt as if I floated into the library and went straight into helping with setting up an Explore and Discover area; which they were behind on getting set up. I had just seen the same items set up at the Incline Village Library so I was familiar with it. I simply had a great time while there!
Then Thomas and I attended the Alchemist Theatre event last night. I volunteer with a group of other Reiki practitioners to give complimentary Reiki before the event. That was incredibly inspiring!
The show was amazing as always and I resonated with Jessica's message of Trust and Spontaneity. Then, Then, Then, Today Happened. Oh my gosh! What an amazing day. But, that's for another post cause it's all about trust and being spontaneous. WOW!
**March 2021 Update** … I have no idea what happened on that day! HA! Sounds like it was good, though! Hahahaha! I do remember how much lighter I felt after this haircut. As I remember, it had been years since my last haircut. 
Blessings,
Camilla
See It. Share It. BE IT … Spread Love Everywhere You Go!
"Words of Alchemy", published December 2019, is a free-verse poetry memoir covering the last 6 years of my life. The poetry of nature, the poetry of healing, the poetry of appreciation, the poetry of love, in one beautiful book.
Amazing news! My 19 year old daughter, Lillian Darnell's debut book, "Where Would You Fly and Other Magical Stories" was published January 2018. Learn more and order here. 
Wonderfully exciting news! My 15 year old son, Thomas Darnell's book, Biggest Little Photographer is published. Be inspired! Learn more and order here.