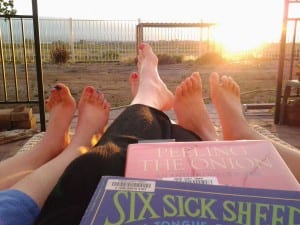 I have been wanting to put together a gift guide for ages! Finally taking the time to do it.
These are items that we use unless indicated otherwise. This is by no means a comprehensive gift guide. I partly wanted to preserve in the digital world much of what Team TLC's life is like during this time and perhaps give you an idea or two for your own family for any upcoming special occasion!
First, I am an advocate of shopping local whenever possible. I support going to the local used book store in your neighborhood and all locally owned shops where these or similar items can be purchased.
I am also an advocate of making home made gifts whenever suitable. We make tons of home made gifts in our house and give one another store bought gifts minimally.
I'll be putting together two additional Gift Guides as well. One that lists unique and different gifts and the other will list natural, simple and/or home made gifts.
Reading and Books:
I don't own a Kindle, but they seem like the perfect gift for the book lover:
Kindle Fire HDX 8.9″, HDX Display, Wi-Fi, 16 GB – Includes Special Offers
Kindle Accessories
Some of Thomas and Lillian's favorite books:
The Boxcar Children Bookshelf (The Boxcar Children Mysteries, Books 1-12)
Bobbsey Twins Complete Series Set, 1-12
Junie B.'s Books in a Bus! (Books 1-27!)
Magic Tree House Boxed Set, Books 1-28
Fairy Realm #1: The Charm Bracelet
Chitty Chitty Bang Bang: The Magical Car
Encyclopedia Brown Box Set (4 Books)
The Blessing Cup (Paula Wiseman Books)
I have a widget already put together with my reading material .. TOO many to list individually! Camilla's Favorite Books.
Electronics:
We are a TV-less house. We haven't had a television in the house for about a year and a half and haven't paid for television programing since about 2008.
However, we DO have movie night just about every Saturday night. I have a projector that I purchased back when I was facilitating trainings.
The link for the one I use is listed below. I connect it to my MacBook Pro and project it onto the wall in my bedroom. Fun stuff!
Epson EX5220 Wireless XGA 3LCD Projector, 3000 color lumens, 3000 while lumens (V11H551020)
I don't have a bluetooth wireless speaker but have had the opportunity to be around one and they are amazing!! Much better than trying to hear the movie from the built in laptop speakers. This is on our bucket list:
Bluetooth Wireless Speaker (for GREAT sound while watching your movies)
This is the laptop I want to get for Thomas and Lillian. I like everything I've read about it:
Samsung Chromebook (Wi-Fi, 11.6-Inch)
This is fabulous for anyone who uses the iTouch or iPhone as a speech generating device! Serves a GREAT purpose:
iMainGo 2 3.5mm Aux Portable Speaker Case
I'm not a big user of much more electronics other than plugins and an adapter here and there. However, Amazon has their own Electronics Gift Guide with tons of popular items ..
Amazon's Electronics Gift Guide
Movies:
Here at The Team TLC Casa we currently only watch G rated movies. I've let a few PG movies slip by and wasn't pleased with the last one.
Family Movie Night:
Finding Nemo (Three-Disc Collector's Edition: Blu-ray/DVD in Blu-ray Packaging)
Felicity – An American Girl Adventure
The Red Balloon (The Criterion Collection)
Hans Brinker or the Silver Skates
The Princess Diaries: Two-Movie Collection (Three-Disc Combo Blu-ray/DVD Combo in Blu-ray Packaging)
Babes in Toyland
The Apple Dumpling Gang (Special Edition)
The Fox and the Hound / The Fox and the Hound II (Two-Pack)
Disney 4-Movie Collection: Herbie (Love Bug / Herbie Goes Bananas / Herbie Goes To Monte Carlo / Herbie Rides Again)
Chitty Chitty Bang Bang (Full Screen Edition)
Follow Me, Boys!
The Incredible Mr. Limpet (Keepcase)
Kiki's Delivery Service
Babar The Movie
Swiss Family Robinson (Vault Disney Collection)
Adult Movie Night:
It Happened One Night
Harvey
His Girl Friday
We've got way too many movie favorites so I've put together a widget to house them all! Much more efficient than listing them. Team TLC Favorite Movies.
Arts & Crafts:
Elmer's 3D Washable Glitter Pens, Classic Rainbow and Glitter Colors, Pack of 10 Pens (E199)
Crayola 240 Sheet Construction Paper
Yuzen Chiyogami- set of 40 Origami sheets (#YW-112)
Canvas panels 8 x 10 inch (pack of 12)
Dimensions Needlecrafts Paintworks Paint By Number, Butterflies And Bamboo
RoseArt Washable Poster Paints, 12-Count, Assorted Colors, Packaging May Vary (354VA-6)
Crayola 64 Ct Short Colored Pencils Kids Choice Colors
Crayola 64 Ct Crayons
Home:
Lillian cannot drink from a regular cup. It just spills all down her front side. This is what we use. I use one per week and then throw it away:
Hefty Zoo Pals Cups Safari Collection Cups, Lids & Bendy Straws
I love using this:
Bodum Brazil 8-Cup French Press Coffee Maker, 34-Ounce, Black
This is not the exact one I use, but it's similar. I use mine daily and this is the one I use to make my homemade fries:
Victorinox Swiss Army 8-Inch Fibrox Straight Edge Chef's Knife
This is not the exact paring knife I use. Mine is very old with a wooden handle. I use this daily too:
Mercer Cutlery Genesis 3.5″ Forged Paring Knife, Steel/Black
I use these almost daily. Multi-purpose! I use for ketchup, nuts, candy on movie night, and more:
NEW, Dozen 2½ Oz. (Ounce) All-Purpose Ramekin Individual Sauce Cups, Condiment Sauce Cups, Sauce Ramekins, Dipping Sauce Cups, Stainless Steel, Commercial/Restaurant Grade Quality
I use one like this to make the Rooibos tea that Thomas and I love so much:
Luigi Bormioli Michelangelo Masterpiece 84-ounce Pitcher
I love my little teapot for loose tea! Works great with tea bags too:
Heat Resistant Glass Teapot With Removable Infuser 24 oz
I stopped using the microwave about 6 months ago so I use this daily. I warm left overs in this or I use the stove top or oven. Just depends on what I'm warming:
Black & Decker TO1332SBD 4-Slice Toaster Oven
I use these for all sorts of things. I store popcorn, nuts, crackers, chocolate chips, and dried fruit in these jars. I also use them to drink my Rooibos tea! I prefer glass to plastic for storage and I LOVE that they are multi-purpose and not one use like canister sets:
Ball Wide Mouth Quart Jars with Lids and Bands, Set of 12
I have had this for over 10 years. I use it for not only pizza, but when I make fries or nachos. When I make fries or nachos I layer the pan with aluminum foil and coat with either olive oil spray or coconut oil spray:
AirBake Ultra by T-fal T492ABA2 Insulated 15.75-Inch Perforated Pizza Pan Dishwasher Safe Bakeware, Silver
Lillian and I love these towels since we both have long hair. Perfect:
Turbie Twist Cotton (3 Pack): Aqua, Purple, Navy Blue
Games:
I grew up playing this with my cousins, aunts and uncles! I just love playing it with Thomas and Lillian:
UNO 40th Anniversery Edition Card Game
This one too:
Sorry Classic Edition Board Game
This too! My cousins and I played tons of Go Fish and Crazy Eight:
Economy Playing Cards, 12-Decks
This too:
Games: Marbles: Classic Marbles
This too … except Lillian won't play it due to her inability to copy with the unexpected!! (The buzzing when accidentally touching the sides!):
Operation Game
This is a fun and fabulous game that I've had since Lillian was a toddler. They both love it! We hardly play it anymore as they've moved past this type of game:
Ravensburger Snail's Pace Race – Children's Game
I didn't play this one growing up, but love playing it with Thomas and Lillian:
Candy Land – The Kingdom of Sweets Board Game
This too:
Chutes and Ladders
We don't own this one, but I played it tons and tons with my cousins! Would love to have it for our family:
Pressman Toys Pre205312 Chinese Checkers
Spent hours and hours with this growing up:
Green Toys Jump Rope, Green
This too:
Classic Hula Hoop Set of 3
Thomas and Lillian LOVE playing with this:
Play-Doh 24-Pack of Colors
This too! They love the one with glitter in it:
Crayola 57-4415 Model Magic Modeling Compound, 2-lb. Bucket, Asstd Colors, Four 8-oz. Pouches
Thomas LOVES these! I personally don't like the licensed themes or the play themes that would have him use his imagination for battle and destruction type of scenarios.
Thomas has this one:
LEGO City Police Forest Station 4440
And this one:
LEGO City Police Patrol Car 4436
And this one:
LEGO Space Moon Buggy 3365
He wants this one:
LEGO City Fire Station 60004
And this one:
LEGO City 60022 Cargo Terminal Toy Building Set
And this one:
LEGO City Fire Truck 60002
And this one:
LEGO Space Center 3368
And this one:
LEGO Space Shuttle 3367
You get the idea … 🙂
(Amazon Affiliate Links)