With Lillian turning 18 and the stressful move, I got behind on posting things here. For a while, you'll be getting some older posts as I get caught up … Much love!
December 15 2019: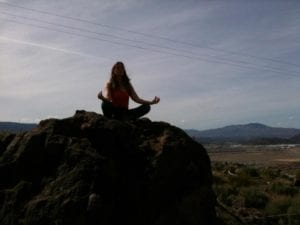 (Photo of me during a 2013 Date Day with Thomas – seemed fitting)
Feeling extra sensitive today, hormonal, grumpy, pouty, sad, and sleep deprived due to being up to the early morning hours with Lillian. Had I been on the receiving end of the following unsolicited "suggestions" when not in this state, I would have (probably) easily laughed it off. (Sharing for anyone else who is going through some really weird times!)
"You should write about your life, things that happened during your youth, up through your divorce, up through the current time. That would be very interesting. That stuff you're writing now is too girly and boring. You should write something that appeals to middle aged white males, possibly divorced (the person making the suggestion is also very conservative). A book that details all the raw details (the not nice stuff) and the ripple effect of what you did when you decided to divorce. You could have a section in there from my (the one making this suggestion) point of view, too. Saying no less than five times, "of what happened when you decided to divorce".
I was so stunned, I remained silent and just responded with Hmmmm … Coming from someone I've spoken to a handful of times in the past 6 years. I absolutely welcome input from well meaning friends. All of the previous and a few other things were said in a nice, seemingly helpful tone, with the underlying energy of shaming. I may be extra sensitive today, but I'm no fool. (In case it's not clear, these suggestions came from my ex-husband.)
I don't write to an audience. I write what wants to be written and doubt I'll ever write something that appeals to his demographic … as that's not ME. What a weird, un-fun, and unlovely past few months this has been. And, yes, I think this will be included in the memoir that has been brewing for years. It just wasn't ready to be born yet. It may even be born as a fiction, based on true events. We shall see … Here's to taking deep breaths, being kind to myself, and most of all, loving myself through times like this. And, when needed for release, saying bunches of swear words, bunches …
March 18 2020 Update – Although I was in a sensitive state when this conversation happened, it still would have triggered me. However, I moved through it, letting myself feel what I needed to feel, not trying to push it away. Sending love to anyone who has experienced a similar situation.
Blessings,
Camilla
See It. Share It. BE IT … Spread Love Everywhere You Go!
"Words of Alchemy" has arrived, December 2019! A free-verse poetry memoir covering the last 6 years of my life. The poetry of nature, the poetry of healing, the poetry of appreciation, the poetry of love, in one beautiful book.
Amazing news! My 18 year old daughter, Lillian Darnell's debut book, "Where Would You Fly and Other Magical Stories" was published January 2018. Learn more and order here. 
Wonderfully exciting news! My 14 year old son, Thomas Darnell's book, Biggest Little Photographer is published. Be inspired! Learn more and order here.