I'm a member of an author/book reader facebook group, and the admins ask great questions. I decided to turn some of the questions into a "get to know me" series. I would also love to hear your answers to the questions posed in the series. Thanks Helen for asking such fun questions!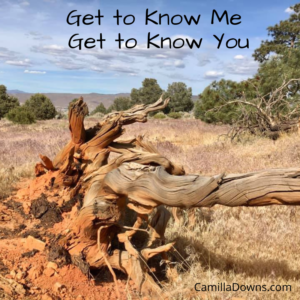 When I was in junior high we went to Grand Isle, Louisiana (way, way, way down in da bayou) to go fishing. In the place we stayed I kept seeing cockroaches scurrying around, HUGE cockroaches.
I was afraid to go to sleep, burying myself in my sleeping bag, hoping they'd stay out. As I was falling asleep, I heard them flying around! 😱 I immediately zipped my sleeping bag around my entire body. I didn't care if I could barely breathe. I was not having a flying cockroach come near touching my body! 😂🤣
Thank goodness there are NO cockroaches in Reno, Nevada, where I've lived since 2006. However, I grew up in the deep South … Jackson, MS and Houma, LA. Just in case anyone needs to defend themselves from cockroaches, here's a pro-tip: Aqua Net hairspray does the job!! These days I relocate bugs and insects, rather than squish them, and I'm not sure how I'd handle cockroaches should they make an appearance. Ha!
What about you?
Blessings,
Camilla
See It. Share It. BE IT … Spread Love Everywhere You Go!
"Words of Alchemy", published December 2019, is a free-verse poetry memoir covering the last 6 years of my life. The poetry of nature, the poetry of healing, the poetry of appreciation, the poetry of love, in one beautiful book.
Amazing news! My 19 year old daughter, Lillian Darnell's debut book, "Where Would You Fly and Other Magical Stories" was published January 2018. Learn more and order here. 
Wonderfully exciting news! My 15 year old son, Thomas Darnell's book, Biggest Little Photographer is published. Be inspired! Learn more and order here.