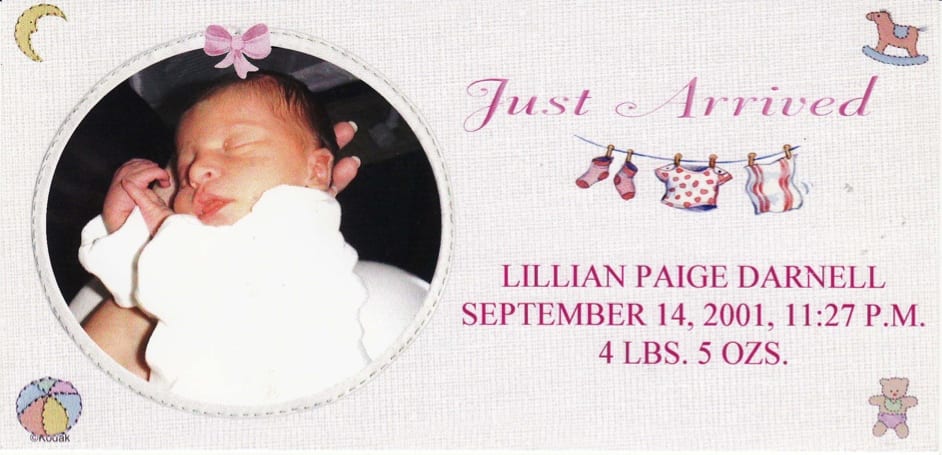 ……. And she Blew out all 12 birthday candles on September 14 2013 …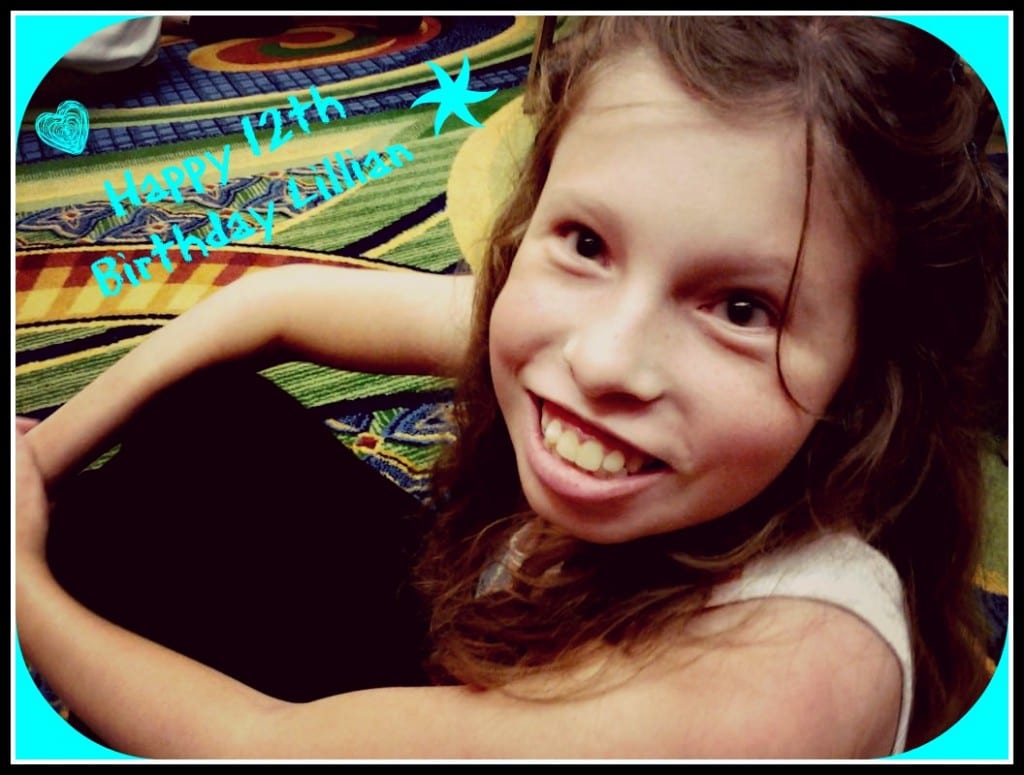 Lillian literally came flying into this world on September 14 2001. She wasn't supposed to arrive here until sometime in October 2001, but I was induced a month early as "they" were worried that she had stopped growing and assumed my placenta had quit nourishing her. If we had known then what we discovered three years later (that she has a chromosome difference called 18p- or 18p deletion), we would have known why she was so small and not growing much.
I had planned on having a natural birth in the gigantic jacuzzi style tub at the Birthing Center attached to my Ob-Gyn's office. I had my room all picked out and had attended all of the birthing classes leading up to the big event. I was the type that when I decided I was going to do something I put my all into it. I studied everything I could find and get my hands on about natural birthing. I practiced meditating and visualizing what would be happening in my body as the birthing process began and progressed. I read about and studied Natural Childbirth the Bradley Way: Revised Edition (amazon affiliate link) and was on my way to having this baby girl the exact way in which I wanted.
Then, one month before her due date at my regular check up, they were worried that she had not grown. I was sent to a specialist who put me on bed rest for two weeks to see if that helped her grow. I used to be a full blown Type A personality and this was devastating to me. I had planned on working right up until she was born so I would have more time off. I had planned on birthing her in the birthing center. My plans were getting all screwed up and I didn't like it! (I DID get to have Thomas at the awesome birthing center and DID get to experience a water birth for him!! I arrived at about 9:00 pm on November 13, 2005 and went home a few hours later around midnight!)
After two weeks of bed rest, she was checked again for growth. There had been no growth so it was advised that I be induced right away. We agreed and I gave instructions that I did not want any medications as I still wanted to experience natural child birth, even if I wasn't getting to experience it in the way I originally wanted.
I kept reading my books and studying right up until we checked into the hospital on the morning of September 14, 2001. I even took some of them with me! After we got settled, the pill was inserted that would induce contractions. Later that afternoon I began having contractions. The contractions didn't have a pattern really .. coming and going with no consistency at all.
I was doing pretty good at not giving in to the pain, instead focusing on what was happening in my body and with that precious little body  and soul inside of me about to make it's way out into this World. At times when I began to lose focus, Lillian's dad did a really good job at bringing my focus back to what was physically happening instead of my mind focusing on the pain.
Of all things, I worked through each contraction by chanting the vowels. I know. Crazy! I had read about the chanting and just skipped over it as I knew that was just something I would not be doing! I went with it. It was working in keeping me relaxed and letting the contraction happen instead of tensing up. I also visualized what was actually happening inside of me. That helped a great deal also.
My Ob-Gyn visited one more time before leaving and told me I would most likely be there through the night and would birth in the morning. When she left, I looked at Lillian's dad and told him there was no way in heck I was doing this for that long. I was going to relax and have that baby NOW!
The hospital did not allow water births. However, they did allow you to sit in the tub during contractions and up to the birthing moment. I got into the tub and it felt sooooooo good. The contractions sped up rapidly as I was able to relax more and relax into the contractions. We could see Lilian moving down the birth canal headed towards the exit! I had already decided that for me and my baby and our birthing experience, a water birth was the right thing for us. I am a rule follower too, mostly. So I stayed in the tub until I knew she was about to make her exit.
When I felt her head very close to emerging, we notified the nurse that Lillian was about to be joining us. They said they'd be right down and I will never forget the look on that nurse's face when she entered the bathroom! She said, "Oh my goodness. You've got to get out of the bathtub!" My immediate response was "No" as I was about to have a contraction. She reminded me that I couldn't birth in the water and I said I'd get out after the next contraction.
I didn't even get a chance to get my gown back on before lying down, having one or two more contractions and that little girl flew out! Literally! My Ob-Gyn didn't make it back in time and the attending doctor had just come into the room. He said, "Don't push yet" and I said, "Are you freaking crazy? My body says to push!" So I did and out she flew still in the safety and warmth of her amniotic sac. He had to catch her. Nature did not care if they were not ready!
I felt absolutely amazing after that .. euphoric! I kept thinking, "Oh my good golly! I just had a baby. And I did it naturally!" I felt so strong and full of energy … Like I could do anything! It's a feeling like no other and one I have not felt since then. I have come close but nothing can match that feeling.
I was ready to go home shortly after that and they would have released me after 24 hours but Lillian needed to get her temperature and blood sugar regulated. We still didn't know at the time that she had 18p-. I was walking down the hall a few hours after delivery and one of the nurses said, "Who are you? You are something else!"
We stayed in the hospital for 4 days waiting for Lillian's temperature and blood sugar to normalize. We were finally released and headed home with a beautiful little 4 pound 5 ounce fairy angel!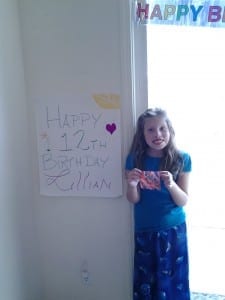 Now as I watch her dance around the room, singing words that only she understands, talking with her imaginary friends, I think back to the night that she flew into the World.
Lilian is 12 years old now and for the first time ever at her birthday party she blew out her candles on the first try .. ALL 12 candles! This may not seem like much, but because of the shape of her mouth and lips she has not been able to blow like you and I can … Until NOW!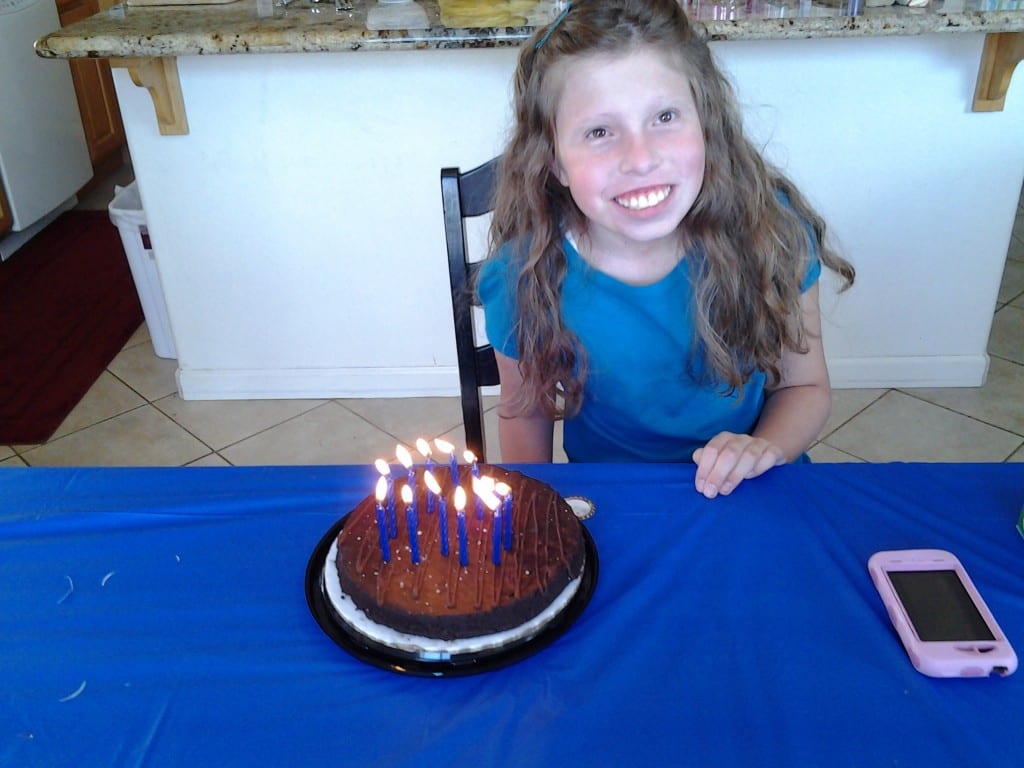 Lillian's brother, Thomas, was so excited for her! You can see him about to jump with excitement in this picture. He gave her a big hug afterwards. He couldn't help himself! Lillian does not like hugs but I think she understood and was a little embarrassed with all the fuss that he and I were making in front of her friends! I kind of like that it's blurry because I thought for sure I'd be taking more than one and didn't steady my hand before taking this one. I didn't get a chance to take another … She blew them candles out!!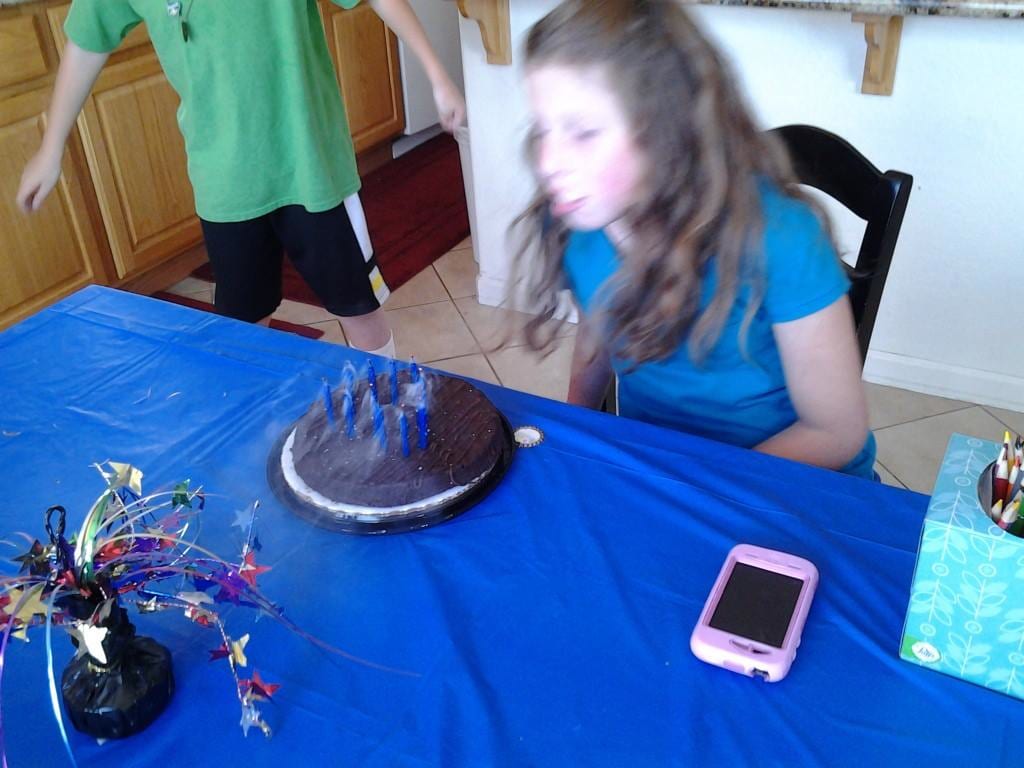 Here's a video of her trying to blow out a candle from January 2011. You can see how far she's come with this skill!
A fairy angel FLEW into the World at 11:27 pm on September 14, 2001 and twelve years later she BLEW out 12 birthday candles. On. The. FIRST. Attempt! You Go Lillian Paige Darnell, You Go!! I love you unconditionally, forever and ever, to eternity, and to the moon and back!