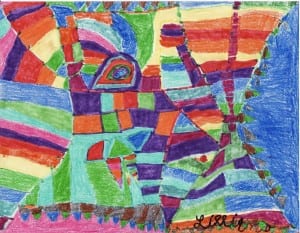 My 14 year-old daughter, Lillian Darnell, is selling prints of her artwork, The Egyptian Eye, to help raise money for us to attend The Chromosome 18 Conference this July in San Antonio, Texas.
Please enjoy this poem she created to accompany the drawing.
Triangular prisms sprout rainbows
From the tip of a triangle, triangles peak everywhere
Amazing colorful teeth pointing toward a catchy circle
It is an Egyptian Beauty!
To learn more about Lillian, the Chromosome 18 Conference, or to support her, go here.
Blessings,
Camilla
See It. Share It. BE IT … Spread Love Everywhere You Go!
Did you know I wrote a book? It's titled "D iz for Different – One Woman's Journey to Acceptance" and you can read more about it here.
Latest Articles:
[catlist name=blog]
Go here to subscribe to my blog to ensure you receive new posts delivered straight to your inbox! Right here!