A wee bit late posting this ….. November 13 2016: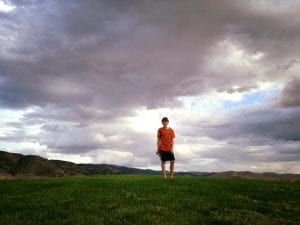 "We're the weirdest people I know." ~Thomas Darnell (11.8.16) …. To which we both burst out laughing and let even more weirdness ensue. It's true. I'm not your average person, nor the average mom. But, that's another story for another time …. This one's for Thomas ….
Happy Happy Happy 11th Birthday Thomas!!!!
Here's to you! As you begin your 11th trip around the sun, may you live your life to the fullest. You have blessed me with countless gifts from the moment you joined us.
Your tender heart combined with your honesty, compassion, and empathy are indeed precious. Rounded out with your true confusion as to why age seems to be such a big deal in this world, by way if its limitations; have made for interesting, fun, and life shifting adventures and conversations. Your soul knows no age and you have not forgotten that.
"It's like I've lived this life before, I have nostalgia almost every day, like I've experienced this all before." said often by Thomas.
He wanted cheesecake for his cake. So that's what I made for him with shaved dark chocolate on top. Oh my YUM!!!
He so loves and enjoys reading National Geographic so I got him a subscription for the print edition. Lillian made a handmade card and then a "mystery box" (which he renamed a "memory box").
With help from me she collected items from around the house to put in the box and then she handmade a coupon for one stone or crystal from Stone Age with some of her own quotes on the back. Other goodies from The Romano Duo!!
Snapshot of Thomas: Some of his favorite topics are minecraft, LEGOS, coding, math, and learning about topics that interest him. He loves fibonacci numbers, bernoulli's equation, and the law of infinite probability. Some of his most cherished things to do are reading, being outside, going on adventures, and swimming.
And as of about two weeks ago, has a PUBLISHED BOOK!!! Wahoooo!!!
He asks a billion questions, makes funny noises, teases his sister too much, has sensory processing issues, gets overwhelmed in crowds and noisy places, takes longer than the average person to process questions asked of him ….
He calls me out when I'm not "doing" as I say, he holds the biggest freakin mirror in front of me when I need it most, and he has a heart of gold.
Thomas, I love you throughout all of time and all dimensions and am blessed we chose to be mother and son in this life.
PEACE and LOVE …. PEACE and LOVE …. PEACE and LOVE ….
______________________________________________________
November 14 2016:
Birthday treat for the 11 year old this morning.
The most amazing vegan root beer float with coconut bliss ice cream and Oogave root beer. Plus a treat for me: Aztec D'oro, made with almond milk.
But first, a toast to Thomas' 11th trip around the sun with this amazing and yummy water.
Thank you Great Full Gardens for the birthday discount … we are over the super moon thankful to you for that!!!
Blessings,
Camilla
See It. Share It. BE IT … Spread Love Everywhere You Go!
Wonderfully exciting news! Thomas, my 11 year old son's book, Biggest Little Photographer, is now published. It's here. Be inspired! Order one for yourself or as an inspirational gift! 
Latest Articles:
[catlist name=blog]