On Monday, May 30, 2016 I began a 31 Day Writing Prompt experience. I decided to share these on my blog. The prompts are courtesy of American Artists & Writers, Inc. I signed up for their newsletter and received the prompts as a download.
Day 2 – Emotion Roulette ….
Write five or six different emotions on little slips of paper and put them in a bowl. Draw one at random. Write a review of a recent movie or TV show you've seen using only the one emotion you drew.
_____________________________________________________________________________
The Joyful Pooka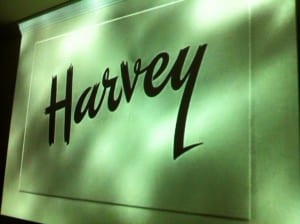 I'm not quite sure what it is about this movie that fills me with joy. I have watched it 3 times over the past few years and simply love it every time. The first time I watched it alone while having a date night with myself. The second time was around Easter 2015 as Lillian wanted to watch something with a rabbit.
I knew this movie's content was acceptable for Lillian and Thomas (by my terms), and, well …. one of the stars is a 6 foot invisible rabbit (pooka) by the name of Harvey! We watched it again this April 2016. I think it has become a tradition!
I so enjoy James Stewart in this movie. His character, Elwood P. Dowd, is indeed joyful. He comments that his mom used to say one could be smart or pleasant and that he had chosen pleasant after trying out smart for a while. Elwood considers everyone a friend and his best friend is Harvey, a 6 foot invisible pooka (rabbit).
Elwood also claims that he was finally able to leave reality behind and that everyday is a beautiful day. Another Elwood-ism is that he always has a good time where ever he is and whoever he is with.
Elwood joyfully introduces Harvey to anyone who will stand still long enough. When his sister, Veta (played by Josephine Hull), takes him to the insane asylum to be committed, he remains pleasant and joyful. Josephine Hull is hilarious in character as Veta.
I am absolutely joyful while watching this, joyful that we watched it, and joyful that Thomas and Lillian LOVE watching this with me!
Can you guess which emotion I drew? Here are the six I drew from: 1)Fearful, 2) Anxious, 3)Happy, 4)Angry, 5)Joyful, and 6)Sad …
If you'd like to see more movie suggestions from Team TLC check out the "Book and Movie Musings" category on this blog.
I help to support my family with my writings. I share my writings for free for the benefit of others. So … there are Amazon affiliate links in this post. This simply means that if you click through to Amazon for more information about a book, and you end up buying something we get a few cents (and it doesn't cost you anything more than usual). Oceans of gratitude … xoxo
Blessings,
Camilla
See It. Share It. BE IT … Spread Love Everywhere You Go!
Did you know I wrote a book? It's titled "D iz for Different – One Woman's Journey to Acceptance" and you can read more about it here.
Latest Articles:
[catlist name=blog]
Go here to subscribe to my blog to ensure you receive new posts delivered straight to your inbox! Right here!