October 1 2023
I've attended this for the past two years and always come away enriched and enlightened. They invite presenters who are a part of the ND community; which makes all the difference. Time to dig in! ❤️❤️❤️

This session was amazing.
Looking forward to this! Each day of the Stanford ND conference, before the lunch break, there's a performance. This is today's performance. 🎶🎶🎶
Another great session!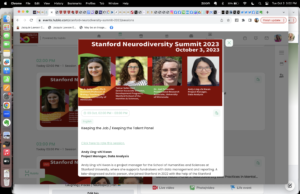 This one was the absolute best session of all I attended. I wanted to shoot this content directly into my veins. It was that good!

I highly encourage anyone involved in this community to watch the recordings of these sessions. It takes a while, but they eventually get posted to this website: