January 26 2022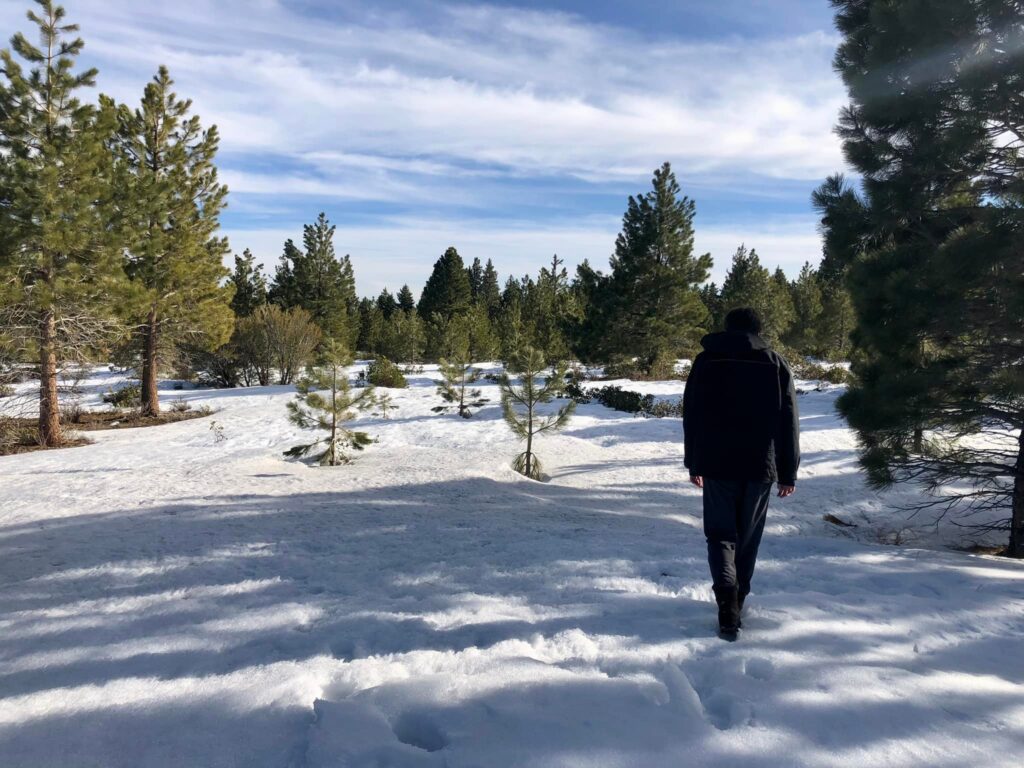 (Photo from a January 2022 walk with Thomas – Galena Forest)
I received the results of Lillian's neuropsychological evaluation this morning. It was as expected (plus some), however, overwhelming with much parent guilt over not having done this earlier in her life. Hot tears have been flowing on and off most of the day. This also brought relief in knowing the "why" of some issues.
I feel like I'm the middle of the rope in tug of war between helping Thomas get enrolled for dual credits for his last two years of high school, along with figuring out college, and thinking about all that needs to be addressed with Lillian. Plus addressing some of my own medical issues. We've got the route(s) figured out for dual credits. It's just taking all the steps, filling out the forms, and looking into colleges to be sure the credits transfer to the 4 year degree.
I have been letting myself feel sad and sorry for myself today, as I do this all alone. Some days I'm just so damn tired. I will walk into the overwhelm, the tiredness, and let myself feel it all. I don't believe in smooshing these kinds of feelings down, piling positivity on top of it. That does no one any good. I believe in physically feeling the shit of life.
This evaluation assessed more than autism. I've not shared the results as that is up to Lillian as to whether or not we share. She does have some hard core disregulation happening. These diagnoses have opened up therapies that insurance would not pay for without the diagnosis, and informed me of specific therapies and tests I did not know about. Therapies that would have been incredibly helpful earlier in life. Yet, we will start where we are.
Then, tomorrow, or the next, or the next, I'll move back to knowing that I'm a damn cheetah, because I can do hard things. (So glad I read Glennon Doyle's book and learned that phrase! Highly recommend her book, Untamed.)
I'm not posting for sympathy. I'm sharing because that's part of my processing. Getting it out of my head. And I know if I'm feeling this way, others I know may be feeling this way. 🌹🌹🌹
**March 2022 Update** Things are moving along nicely with figuring out Thomas's path. We'll learn any day now if he has conditional approval where he's applied, and we've lined up alternatives just in case.
Moving much slower with Lillian. Although she has finally looked at the report following her assessment, she and I still need to discuss next steps. She seems resistant to move forward. Hopefully, with time she will become less rigid about it.
Moving forward with addressing my health issues, too. I've begun twice a week physical therapy to address neck issues; which will continue for 8 weeks. I purchased a stand up desk, that adjusts to all positions so it can be used as a seated desk as well. And I'm taking the first steps in addressing my GI issues.
Blessings,
Camilla
See It. Share It. BE IT … Spread Love Everywhere You Go!
"Words of Alchemy", published December 2019, is a free-verse poetry memoir covering the last 6 years of my life. The poetry of nature, the poetry of healing, the poetry of appreciation, the poetry of love, in one beautiful book.
Amazing news! My 20 year old daughter, Lillian Darnell's debut book, "Where Would You Fly and Other Magical Stories" was published January 2018. Learn more and order here. 
Wonderfully exciting news! My 16 year old son, Thomas Darnell's book, Biggest Little Photographer is published. Be inspired! Learn more and order here.