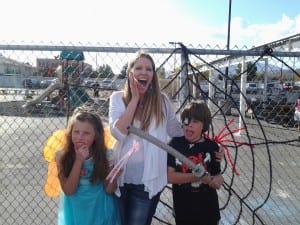 Team TLC has movie night just about every Saturday night. We are a TV-less house but we DO have a family movie night once per week.
I use this projector which I acquired when facilitating trainings, Epson EX7220 Wireless WXGA 3LCD Projector, 3000 lumen color, 3000 lumen white (V11H550020), (amazon affiliate link) connected to my MacBook and project our movie onto my bedroom wall! Fun Stuff Y'all!
We mostly watch G rated movies. However, I have found some PG movies that are acceptable for my preferences. Whenever Thomas and Lillian are having a sleepover with The Romano Duo (my Mom and Step-Father), I have a Team Member C movie night. You'll be able to tell which are mine! I prefer the oldies!
I get most of our movies from the library. We have just about seen all of the appropriate movies the Washoe County library has available. So, sometimes I rent/stream from Amazon. I search for the $1.99 or $2.99 movies.
Here's a fun and frugal tip! With Amazon Prime Membership you not only get free 2 day shipping, but you get access to unlimited streaming of 40,000 movies and tv episodes and you get to borrow books from the Kindle Owners' Lending Library. My book is available there!
You can sign up for a 30 day free trial Amazon Prime membership and receive these benefits! Just remember to mark your calendar to cancel the membership BEFORE you get charged the yearly fee … unless you think it's worth it to keep it.
Here ya go!