On January 19, 2019, I took part in a Manjushri Empowerment Ceremony with the Tibetan Monks of Gaden Shartse. During the ceremony the mantra and powerful energy of Manjushri are transmitted to the attendees. It was an amazing and beautiful experience.
I barely moved for the entire hour long ceremony. It was like a deep, interactive meditation as we were called upon to visualize certain aspects of the ceremony. Manjushri is a wisdom deity of Tibetan Buddhism, or a Bodhisattva (Great Being) who wields a powerful sword used to cut through ignorance.
Mostly, I already fall asleep and sleep pretty good; yet, last night I felt light as air as I got into bed and drifted to sleep. And, had a peaceful and restful full night's sleep.
We also got to view the progress of the Manjushri Sand Mandala. Simply amazing – built one grain of sand at a time. The Manjushri mandala, symbolizes the need to sever ignorance and attachment in oneself.
I was honored to get to bring home one of the "cakes" used in the ceremony as there were only 3 of them. This was used to touch the top of each attendees head at which time thousands of Manjushri rushed into each person touched.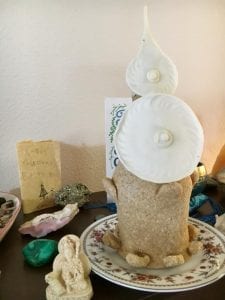 I also bought more of the beautiful incense the monks make (only have one stick left from last year's batch) and the perfect size Padmasambhava statue for my wee altar. They ended the ceremony by gifting to and lovingly knotting around each attendee's neck, a golden chord blessed by all 1,500 monks AND the Dalai Lama. My heart is tingling just writing about it.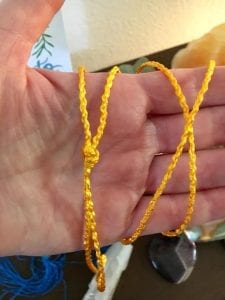 There are more events this weekend and next week in South Lake Tahoe if anyone is interested in attending. Thomas and I plan on attending the Vajravadaran Healing Ceremony next Wednesday night. Additional information from their website for anyone interested:
Manjushri (Buddha of Wisdom)
Manjushri is the embodiment of the wisdom of all the Buddhas. Wisdom is crucial for enlightenment, in that it is both the antidote of ignorance, and at the same time is itself the true meaning of selflessness/ emptiness. Performing the practice of the deity Manjushri accelerates the attainment of the knowledge that eliminates suffering. By "sipping the nectar" of the profound teachings delivered by Lord Manjushrl, one has access to the heart of liberating wisdom. This empowerment will include the transmission of the mantra OM AH RA PA TSA NADHI.
The Vajra Sword of Discriminating Insight
Manjushri's most dynamic attribute is his sword, the vajra sword of discriminating wisdom or insight. The sword cuts through ignorance and the entanglements of conceptual views. It cuts away ego and self-created obstacles. Sometimes the sword is in flames, which can represent light or transformation. It can cut things in two, but it can also cut into one, by cutting the self/other dualism. It is said that the sword can both give and take life.
On January 24 2019, Thomas and I drove to South Lake Tahoe last night to see the Gaden Shartse Monks one more time before their tour ends in this area. This was a Vajravidarana Healing Ceremony. Incredibly powerful.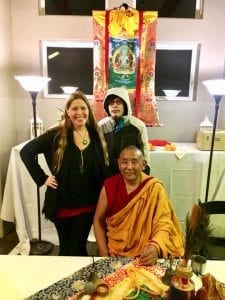 These peaceful and beautiful humans are Tibetan refugees living at the Gaden Shartse Monastery in Southern India. They've been in the United States with temporary visas on a two year tour. A description of the ceremony and more about Shartse is included below.
I pray they are able to get new visas at some point. The peace and healing they spread is much needed in my opinion. And I know in my soul it reverberates way beyond the room in which it is shared and that it is carried through those who attend to be shared with others.
The ceremony was beautiful and magical. We were to first envision the lama transformed into Vajravidarana and to envision many different actions by the lama. One of which was Vajravidarana shooting multi-colored lights down our chakra throughout our body addressing any areas of concern for healing. We were each given a piece of dough to hold in one hand. Then hold to areas that need healing and to visualize any pain or negativity flowing as black smoke into the dough.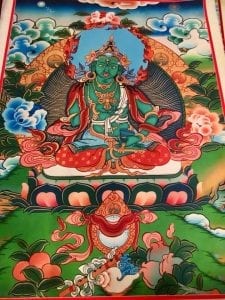 Last, we were to squeeze the dough in a certain way; which was passed back to the lama for clearing and purification. Much more healing light and blessings were sent throughout the ceremony. Once again, I barely moved the entire ceremony. My body lightened to a point that I could barely feel it. I felt bodiless and simply one with the environment. Deeply wild, moving and magical.
The ceremony ended with each attendee being gifted with a shining, deep green cord blessed by all 1,500 monks and The Dalai Lama. I was zinging inside with beautiful, peaceful energy last night. It took me a while to get to sleep.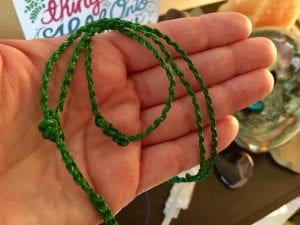 Lobsang Wangchuk, the monk who is facilitator and translator, says they welcome visitors and have guest quarters specifically for those who visit. He also says that they are adding a Quantum Physics building to the college as Buddhism and Quantum Physics are nearly identical.
Got to meet Melanie Tiffin. What a sweet and kind human! Afterwards Thomas took a picture of Melanie and I as we've been connected for a year now on Facebook since the monks visited last year.
Thomas wanted to receive blessings from the lama so I took pictures of that as it happened. Took more beautiful pictures of their props and beautiful handmade items for sale. And then Melanie took a photo of Thomas and I with the lama. I'm so glad she suggested that as I didn't get one last year of both of us with him.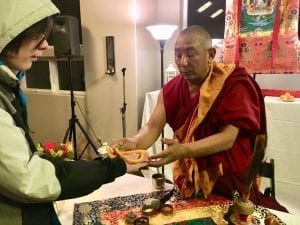 Here's more information about the ceremony and the monks (from their website):
Vajravidarana Healing Ritual
The Tantric ritual of Vajravidarana is a ritual of purification and has three stages: purification and removing of negativities; removing subtle negative imprints; and offering protection. Vajravidarana purifies sickness, mental disturbances, infectious diseases, disputes, enmities, defilements, misfortunes, bad omens, victimization by others, premature death, negative influences of the stars, harm from rulers and thieves, influence of demons, the agents of death, obstacles, misguidance, and factors against congenial life.
About Gaden Shartse
Gaden Shartse Monastic College is situated amid lush green hills and jungle in the remote countryside of southern India. It was founded in 1969 as an effort to re-establish one of the great monastic traditions of Tibet. A small group of elder monks and fifteen young boys, all of whom had managed to escape the destruction in Tibet, settled on land given to them by the Indian government in Mundgod, Karnataka. Today the college is at the forefront of the revival of Tibetan Monastic education, with more than 1600 resident students, teachers, scholars, and spiritual practitioners. More than 70% of the members are between the ages of 10 and 25 and 80% of these were born in Tibet. To this day, young monks arrive at the Monastery weekly from Tibet, seeking shelter and education. Due to the success of the academic program and the quality of the teachers at the monastery, Gaden Shartse has established a reputation as being the leader in the field of Buddhist and Tibetan studies.
Blessings,
Camilla
See It. Share It. BE IT … Spread Love Everywhere You Go!
Amazing news! My 17 year old daughter, Lillian Darnell's debut book, "Where Would You Fly and Other Magical Stories" is arriving January 2018. Learn more and order here. 
Wonderfully exciting news! My 13 year old son, Thomas Darnell's book, Biggest Little Photographer is published. Be inspired! Learn more and order here.
Go here to see latest soul writings. xoxo