I'm chatting with Chelle of Curled up with a good book about jobs I've had over the past 13 years, Fahrenheit 451, Arsenic & Old Lace, the best thing I've done so far in my life, my desired super power, Equal Justice Initiative, and what I would do with a million pounds! Check it out … xoxo ….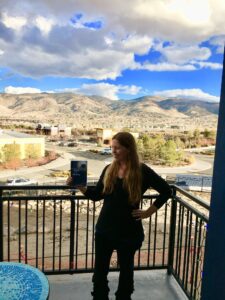 Tell us a bit about yourself:
My name is Camilla (pronounced like Pamela, but with a "C") and I live in Northern Nevada, USA in the beautiful city of Reno. We live in very close proximity to Lake Tahoe with great walking and hiking in forests surrounded by fir and pine trees, with gorgeous lakes. I love reading, going for swims, going for walks, and taking nature photographs.
How many books have you written and published?
I've written two books, and contributed to two others for a total of four books. I'm an indie author and publisher under my own imprint of Loving Kindness Books.
December 2019: The latest to be published is the free-verse poetry memoir, Words of Alchemy.
January 2018: My 19 year old daughter's book, Where Would You Fly and Other Magical Stories. This is a collection of her short stories and poetry from the age of 5 years old through 16 years old.
October 2016: My 14 year old son's book, Biggest Little Photographer. This is a collection of photographs that he took during a 365 photo a day project, beginning when he was 8 years old, concluding at 9 years old.
February 2012: D iz for Different – One Woman's Journey to Acceptance, a memoir of my journey to acceptance of becoming a single parent, acceptance of becoming a parent to a special needs child, acceptance of myself, and acceptance of financial ruin.
What other jobs have you done other than being an author?
Before I became a mom in 2001, I was a paralegal for 10 years and before that I worked in the mortgage industry. My day job for the past 18 years has been being mom to my two kids, 19 year old Lillian, and 14 year old Thomas. I've homeschooled (well, unschooled them) for about the past 5 or 6 years, with Lillian graduating in June 2019. Lillian is special needs, having a chromosome deletion called 18p-, so I've been her caretaker too.
Throughout the past 13 years, I have had many "jobs" so that I could focus on being a parent, being in charge of my own schedule. I've made jewelry, been a social media consultant, been a substitute teacher, Reiki practitioner, mentor, delivered newspapers, dog walking, cat sitting, and elderly visits.
Name one book you think everyone should read and tell us why?
I recently read Fahrenheit 451 by Ray Bradbury. I know, very late to the game with this one. However, I was swept away by the story, and kept finding myself comparing it to modern times. A must read for anyone who has been living under a rock, like me. Hahaha!
What's your favourite film of all time and why?
It's impossible for me to name a favorite of all time. So, I'm going to share the first movie that came to mind …. Frank Capra's Arsenic & Old Lace. We watch this every year on October 31st. My son and I love the oldies, especially Frank Capra movies. Here's a link to the trailer …
What is the best thing you've done in your life so far?
The best thing I've done in life so far is spending the past 15 years on healing myself, getting to know myself, loving and appreciating myself; while solely single parenting two unique kids.
If you could have a superpower, what would it be and why?
My superpower would be a heightened and clear intuition. Specifically, having to do with myself, where I would be happiest and most useful at contributing to society, while also supporting my family. This is a blind spot for me. Others can see the areas in which I shine. Yet, it is not clear to me.
You win a million pounds – you give half to charity. Which charity do you pick and why?
I would donate to the Equal Justice Initiative (https://eji.org/). The work that Bryan Stevenson does through EJI is much needed, and speaks to my heart. I cannot fathom if someone I loved experienced what those who EJI helps experience. It's maddening and heartbreaking. I watched a movie recently based on the case that Stevenson took on that created the EJI. It's titled, Just Mercy, and it is a powerful movie.
What would you do with the rest of the money?
I would invest some of the money. With the remainder, I would take my family on a lovely vacation. Then, I would buy a piece of property, and build each of us a small house on it. My daughter will always need someone with her, or at least really close. This way she could experience being independent and I would get a BREAK from her!! Hahahaha!
What is your favourite time to write, and why?
My favorite time to write is in the morning. I feel more alert and in the zone during that time. However, I'm okay writing at any time, whenever content decides it's ready to be written!
Go here to read the full interview post ….
Blessings,
Camilla
See It. Share It. BE IT … Spread Love Everywhere You Go!
"Words of Alchemy", published December 2019, is a free-verse poetry memoir covering the last 6 years of my life. The poetry of nature, the poetry of healing, the poetry of appreciation, the poetry of love, in one beautiful book.
Amazing news! My 19 year old daughter, Lillian Darnell's debut book, "Where Would You Fly and Other Magical Stories" was published January 2018. Learn more and order here. 
Wonderfully exciting news! My 15 year old son, Thomas Darnell's book, Biggest Little Photographer is published. Be inspired! Learn more and order here.