Thank you to Sharon for having me on her beautiful book blog back in December 2021. I really enjoy being a guest on blogs when the themes are different from the typical interview.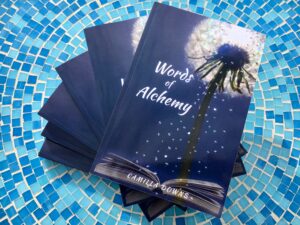 Today it's my pleasure to welcome Camilla Downs back to the blog for the latest Festive Fun with… feature.
Tell us a little bit about yourself.
I'm mom to two beautiful people, 20 year old Lillian, and 16 year old Thomas. We live in the high desert of Northern Nevada, USA, next door to Northern California, and about 20 minutes from gorgeous Lake Tahoe.
I love going for walks, taking nature photographs, reading, and going for swims and soaks in our community's year round pool and jacuzzi. I'm a Shared Living Provider for my special needs daughter, and volunteer 18p- Coordinator for The Chromosome 18 Registry & Research Society.
My son and I are fans of the Star Wars and Marvel movies and series. We have movie night at least once a week, using a projector, and projecting onto our living room wall. It's like being in a theater in the comfort of our own home. Lillian enjoys taking nature photographs with me when we're out for walks. We have many memories of walks, with hundreds of nature photographs.
Describe your ideal Christmas.
My kids and I would spend Christmas week in a cozy cottage in the forest. I would wake to find a steady flow of plump snowflakes falling, the ground covered in a sparkling, thick layer of snow. While the kids are still sleeping, I sit in front of the fire, with a view of the trees, my hands wrapped around a mug of hot coffee, made from freshly ground beans. I spend time reading while taking in the beauty of the moment.
Later in the day, after gifts have been exchanged, we bundle ourselves, going for a breathtaking walk amongst the snow covered trees. When we return we unbundle, slip into bathing suits, and have a soak in the warm, relaxing jacuzzi. We end the day by watching a favorite movie before drifting into a peaceful, restful sleep.
Do you have any Christmas book traditions?
When my kids were younger, we always read, "The Night Before Christmas" before they went to bed. Sweet memories.
What is your favourite Christmas song?
Rocking Around the Christmas Tree by Brenda Lee
What is your favourite Christmas film?
This is such a difficult question. I can't choose just one. I'm going to have to cheat!
It's a Wonderful Life (1946)
Polar Express (2004)
It Happened on 5th Avenue (1947)
The Bishop's Wife (1948)
The Shop Around the Corner (1940)
Quick-fire questions
Roses or Quality Street? Not going to lie. Living in the US, I had to look this up on Google. I'd choose Roses as it seems they cater to coffee lovers with their flavor selection.
Mince pies/Christmas cake or Yule log? Yule log
Turkey or ham? Neither. I'm vegan. 🙂
Brussel sprouts or roast parsnips? Brussel sprouts.
Gravy or cranberry sauce? Homemade cranberry sauce.
Fake or real Christmas tree? Fake.
White or coloured lights? Coloured.
Giving or receiving presents? Giving.
Please follow the link to see the full interview on Sharon's beautiful blog:
https://shazsbookblog.blogspot.com/2021/12/festive-fun-with-camilla-downs.html?fbclid=IwAR2f_LZm1sZdL6jhkr7KL6f1MBhw9GvC420C_xxc7ZRoKpdnKhd90W2G4OM
Blessings,
Camilla
See It. Share It. BE IT … Spread Love Everywhere You Go!
"Words of Alchemy", published December 2019, is a free-verse poetry memoir covering the last 6 years of my life. The poetry of nature, the poetry of healing, the poetry of appreciation, the poetry of love, in one beautiful book.
Amazing news! My 20 year old daughter, Lillian Darnell's debut book, "Where Would You Fly and Other Magical Stories" was published January 2018. Learn more and order here. 
Wonderfully exciting news! My 16 year old son, Thomas Darnell's book, Biggest Little Photographer is published. Be inspired! Learn more and order here.