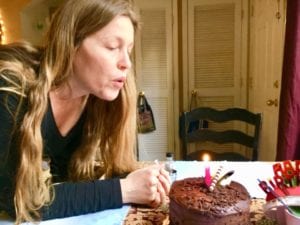 (Photo from last year's birthday. The one that blew in with 60 mile an hour winds, knocking power out for about 3 hours. Will see if the celebrations can be a bit milder this time around … HA!)
Today begins my birth month … the 26th is the actual day. This is a big one for me as I'm leaving the 40's behind and laying claim to the gold! I plan to do at least 50 kind and nurturing things for myself this year, perhaps many more.
One of those is taking the initiative and asking friends, family, and acquaintances to write a note about the following: How and when we met, your fondest memory, craziest thing we did together, funnest thing we did together, most grounding thing we did together, whatever … and I will make this into a coffee table type book for myself. You can include a photo of us if you'd like, or I'll add that later. Please don't hold back. At this point in my life, I have nothing to hide.
I've decided I cannot wait around for someone to do these kind things for me, I cannot wait for someone else to nurture and love me. So, I will step into that role for myself. YAY! This will be fun! You can post it on facebook, message it to me, text it to me, email me, leave a comment here. Whatever is easiest for you.
My theme for this year is Rejuvenate, with the two words Nurture and Kind. I wasn't going to choose a theme and words this year. Yet, this month I realized just how far the last half of 2019 took me to my knees. 2019's theme was Meet My Edge, and, WOW 💥💥💥💥💥… Did that happen. I just kept barreling through, feeling when I had time, bypassing when I didn't. For my own sanity and health, this must be the year of rejuvenating.
I am blessed and grateful for all of you and I deeply thank you in advance for all who choose to help me in my 1st act of kindness and nurturing towards myself. All my love … xoxo
Blessings,
Camilla
See It. Share It. BE IT … Spread Love Everywhere You Go!
"Words of Alchemy" has arrived, December 2019! A free-verse poetry memoir covering the last 6 years of my life. The poetry of nature, the poetry of healing, the poetry of appreciation, the poetry of love, in one beautiful book.
Amazing news! My 18 year old daughter, Lillian Darnell's debut book, "Where Would You Fly and Other Magical Stories" was published January 2018. Learn more and order here. 
Wonderfully exciting news! My 14 year old son, Thomas Darnell's book, Biggest Little Photographer is published. Be inspired! Learn more and order here.