Several months back, I was honored to be a guest on JQM Literary Chat with James Quinlan Meservy. James and covered where my first name originated, my roots, poetic words bubbling to the surface, and a life changing visit to South Lake Tahoe. Join us …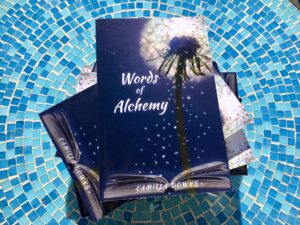 TELL US ABOUT YOURSELF:
I'm Camilla Downs (pronounced like Pamela, but with a "C"). I was named after Camilla Sparv, a Swedish actress in the 1960's and 70's. I've been told that I'm the great great grand-daughter of a full blooded Chickasaw Indian and Irish immigrants (haven't researched this yet, it's on my to do list for this year).
I have lived in Reno, Nevada, USA for the past 14 years, moving here from the Seattle, Washington area in 2006. I spent my first 18 years in Jackson, Mississippi and Houma, Louisiana. I love walking. I am out for walks anywhere from three to six days a week. Nature is partly the inspiration for my writings and poetry. The other part is a desire to process my life experiences; to give them an outlet through writing.
I have been single parenting fourteen year old Thomas and eighteen year old Lillian since Thomas was 1 year old. Lillian has a chromosome deletion simply called 18p-. This means she is missing the short arm of chromosome #18. My kids and I call ourselves Team TLC to correspond with the first letters of each of our names. During 2015-2019 we were tiny home dwellers, living in a 1 bedroom, 1 bath, 810 square foot apartment. That was one heck of an adventure!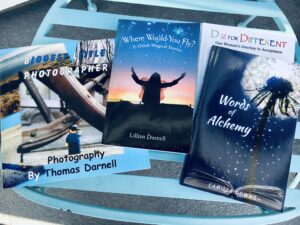 WHAT INFLUENCED YOU TO WRITE YOUR GENRE(S)?
My latest book to publish is a poetry memoir of the last 6 years of my life. It was largely inspired and influenced by Nature, and the many walks I took during the time it was written. About six years ago, I visited Fallen Leaf Lake in South Lake Tahoe, California. The beauty was quite overwhelming, bringing me to tears. As I drove home, I made several stops along Lake Tahoe, sitting to take it all in. While doing this, poetic words bubbled to the surface of my consciousness. This was the beginning of a six year journey of being inspired by nature with poetic words, then later, inspired by life events.
My first book is a memoir of my journey to acceptance of myself, and acceptance of becoming a single parent to two children, one with special needs, one a genius (who is most likely on the spectrum). The influence for this book was born of a desire to share my life with others, in the hopes of letting them know they are not alone. In addition, the feedback I received for life experiences I shared on my blog and in social media, fueled the desire to share in a published book.
The second book, for which I am simply a contributor, is my daughter's book. I collected her writings, organized them, wrote the introduction, edited, proofed, and published the book. Her book was intentionally not professionally edited so as to share her unique view with the reading world. A photo I took of her was used for the cover of the book. It is in the fiction genre as it is a collection of her short stories and poetry from 5 years old to 15 years old. The influence for this book was a desire to help Lillian have something that showcases her unique talents and skills. She and I had talked about publishing a book ever since she was about 5 years old.
The third book, I am also simply a contributor, as it is a photography book of photos my then 8 year old son took. I organized the book, wrote the introduction, and he and I chose quotes to pair with the sections of the book. The influence for this book was a promise I made to 8 year old Thomas. Before he began the 365 photo a day project, I told him that he he followed through and finished, we would publish the photographic journey as a book.
WHO ARE YOUR FAVORITE AUTHORS?
I don't know that I have a favorite author, book, or literary character. I love to read authors and books that enlighten me in an interesting or fun way about life, topics, events of which I am ignorant. I like authors and books that involve my emotions, books that I can't stand to put down. The majority of what I read is nonfiction.
However, I do love reading fiction if it covers a topic I want to learn more about, or it has an inspirational message. I also enjoy fiction books that have a character solving a mystery, as long as the mystery to be solved is not someone's murder or crime related.
Here are a some of my latest reads: On Writing by Stephen King Untamed by Glennon Doyle Aristotle & Dante Discover the Secrets of the Universe by Benjamin Alire Saenz Star Crossed by Barbara Dee The Girl with Seven Names by Hyeonseo Lee The Library Book by Susan Orlean
IS THERE ANYTHING YOU WANT TO SHARE WITH POTENTIAL READERS?
What I'd like to share are words from readers, rather than myself, from blog reviews and Amazon reviews …
A beautiful testament to the love and dedication of a mother to her children, and her personal transformation using nature as a guide and companion. I was instantly transported to zenlike mindfulness by the melodic prose in this beautiful collection. Poems like "Released" will remain with me as a reminder of the healing strength of our connection to nature. The rich imagery and natural metaphors make each piece a standalone daily meditation. – Michelle S.
I have always loved Camilla's writing. So glad she put it in a book for me, for us, to always have on hand. Her poem form is original and real. I get release and comfort in reading the selections. Godspeed to her and thank you. – Amazon Customer
Words of Alchemy is warm and personal, like being invited to sit on the author's couch and listen to her talk to family and friends. Intimate and loving, these poems are a celebration of family, of friends, of life, of nature, and of adaptation. – Amazon Customer
What a joy it is to read this gem of a poetry book. Full of beautiful free-verse, a memoir about friends, family, relationships and the love of the nature. This is for you if you enjoy the natural world, (as I do,) if you appreciate poetry that delves into the heart and doesn't hold back. In many ways it is an intimate and brave expression of the author – Camilla Down's – thoughts and feelings. – Marjorie M.
This book is full of beautiful, inspiring, thought provoking poems about love, nature, acceptance, joys, fun, mindfulness and gratitude! They really pick you up and make you consider your own life and the changes you could welcome to lead a happier, fuller life while reading about Camilla's passion and love for nature, family, friends and all the small things that a lot of us take for granted! It's emotive, and lovely and just a stunning read for a day when you may be feeling low! It's a feel good collection of poems that really will brighten your day! – Lynne P.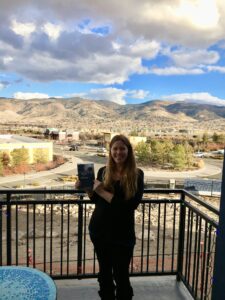 Follow the link to read the full interview on the JQM website …
JQM LITERARY CHAT WELCOMES Camilla Downs
Blessings,
Camilla
See It. Share It. BE IT … Spread Love Everywhere You Go!
"Words of Alchemy", published December 2019, is a free-verse poetry memoir covering the last 6 years of my life. The poetry of nature, the poetry of healing, the poetry of appreciation, the poetry of love, in one beautiful book.
Amazing news! My 19 year old daughter, Lillian Darnell's debut book, "Where Would You Fly and Other Magical Stories" was published January 2018. Learn more and order here. 
Wonderfully exciting news! My 15 year old son, Thomas Darnell's book, Biggest Little Photographer is published. Be inspired! Learn more and order here.