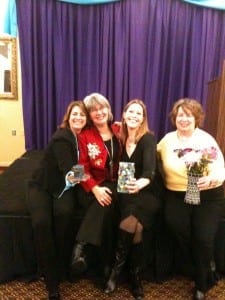 What I would have said if I had been prepared Wednesday night, March 21, 2012, at the eWomenNetwork Women's Success Summit ….
I was surprised with a beautiful, heartfelt recognition of my success by my dear friend Kymberlee Simantel. Hearing the last 5 years of my life retold by my amazing friend was extremely moving. I am hugely blessed with the friends I have made since moving to Reno in 2006, all who are eWomenNetwork Reno/Carson/Tahoe/Vegas/Sierra Nevadas Chapter members. My message to anyone who needs it – surround yourself with those who see your light, those who support you, those who will tell you things you need to hear at times and trust yourself, trust yourself, trust yourself. Never doubt your inner voice.
I hope with all my heart that I enrich my eWomenNetwork friends lives as much as they enrich mine.
Choosing to attend an eWomenNetwork Dinner Event in July 2007 was one of the most life improving, life inspiring choices I had made up to that point in my life. When it's time for us to grow within our own unique box, sometimes we must face fears … fears of going into a room alone, not knowing anyone and creating a new life … Thank you Kymberlee Simantel for being managing director for the Reno/Tahoe chapter and thank you Sandra Yancey for your light tonight and for founding this amazing organization!!
With my eWomenNetwork friends' help I have gifted to twelve recipients through Turning Views Foundation's Gift a Voice Project. Our latest recipient is a Grandma, Karen, in Michigan whose vocal cords were removed in December due to cancer. We were able to give her a "voice" so she can "speak" to her grandkids. Karen is guardian to these two young children and has been struggling to communicate with them.
I have created friendships with women and men who have helped me to discover my unique gift and who have furthered my acceptance of myself. Friends who are always there when I need them, who say things I need to hear but may not want to hear … friends who support and encourage me, friends who know when to say "It's time to put your big girl panties on" and friends who know just the right time to remind you of all that you have accomplished and all whose lives you inspire and enrich.
eWomenNetwork and Kymberlee Simantel provided me the opportunity to create these kinds of friendships:
A friend's husband is there to pick up my son, Thomas, from kindergarten when I'm at a speaking engagement, a friend's son is "Big Brother" to my son Thomas, friends who are on the Board of Directors for the nonprofit I founded, friends who have slipped me money just because, friends who came out in full force to support my Gift a Voice fundraiser in March 2011, a friend who has picked the kids and I up from the airport more than once, friends who are listed as local contacts on my kids' emergency contact paperwork at school, a friend who brings me goody bags of homemade food, friends who donate their last generation iPhone to the Gift a Voice project, friends who care about my kids as much as they care about me, friends who look me in the eye and say, "Stop. Look what you have created. Look what you have done. Take that in.", friends who have always seen me for the amazing person I am AND friends who let me do all of this for them too.
By choosing to be an eWomenNetwork member and SHOWING UP I've made friends who encourage me to let my light shine by shining their light on me. I've made friends who GET the value of encouraging others. Some people may go their entire lives without being encouraged by another soul.
Smile at others, encourage others … you just NEVER know the ripple effect that this will create and it will absolutely come back to you. It WILL ….
I LOVE YOU LADIES and a few GOOD MEN, I TRULY LOVE YOU!!!
Here's the beautiful mosaic candle holder Kymberlee made for me: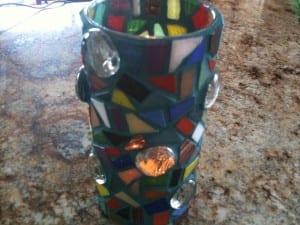 It's Beautiful … It's Different … It's full of LOVE!! Message on bottom: "Camilla, because Different is good, I made this different candle holder for you!" It's just magical with the candle lit with all the glass pieces lit from the flame!! ♥ ♥ ♥ ♥ you so much Kymberlee – Thank you for sharing your light with me!!