With Lillian turning 18 and the stressful move, I got behind on posting things here. For a while, you'll be getting some older posts as I get caught up … Much love!
November 9 2019: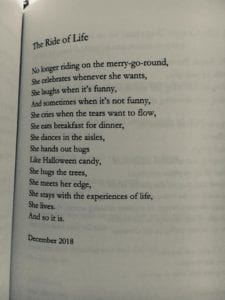 Entering packing mode and mastering the art of uncertainty (sort of … ). After months of construction delays we are finally moving either on 11.15, 11.18, or 11.19. HA! And even then it will only be temporary until our unit is ready on 12.2.
It is and has been a wild ride of having triggers ignited, meeting all sorts of emotions … sadness, joy, anger, frustration, irritation, shame, and guilt; testing my faith that all will work out eventually. My 2019 theme has been "Meeting My Edge". Good grief, have I been meeting my edge!
At times, I've been holding on to the edge by my fingernails. My method is to allow myself to be with these emotions, walk into them, embrace them, FEEL them, so that I can process and release. All while trying to remember to be kind to myself and love myself through the depths of the shadows I have been traveling.
All of this happened at the same time as Lillian turning 18, with the changes that has brought for her, having to sign documents, take more responsibility for her self care, and we still aren't passed this. It remains fresh. She is struggling with the change of this, the change of moving, and changes to her schedule.
I share this not for sympathy. I share as that's my nature. I feel it is important to share the raw and authentic life happenings. The fun, lovely, and joyful. The unlovely and sad. I don't share everything as I tend to withdraw, turning into the moments. Once I've processed, I come back around and share as I feel it's important for others who may need to hear or see that they are not alone. Being reminded that I'm not alone has been incredibly meaningful for me. Oceans of love to anyone who may need to hear this message … 💜💜💜
So …. let the remainder of the packing and purging begin …
March 7 2020 Update – We are in our new place, settling in nicely. I'm almost finished with paperwork having to do with Lillian turning 18. And as soon as they finish construction on the clubhouse here, I'll have an official launch party of Words of Alchemy. Whew!
Blessings,
Camilla
See It. Share It. BE IT … Spread Love Everywhere You Go!
"Words of Alchemy" has arrived, December 2019! A free-verse poetry memoir covering the last 6 years of my life. The poetry of nature, the poetry of healing, the poetry of appreciation, the poetry of love, in one beautiful book.
Amazing news! My 18 year old daughter, Lillian Darnell's debut book, "Where Would You Fly and Other Magical Stories" was published January 2018. Learn more and order here. 
Wonderfully exciting news! My 14 year old son, Thomas Darnell's book, Biggest Little Photographer is published. Be inspired! Learn more and order here.