A Never Forgotten Promise Between Two Souls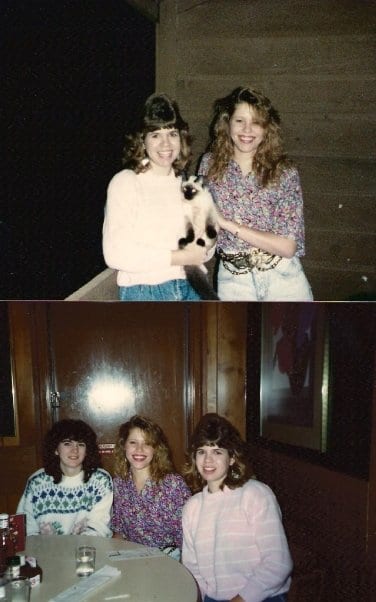 (Nikki and I and her cat in the top picture and Nikki and I and our friend Ginger in the lower picture. This was my going away dinner before I moved.)
For my beautiful friend Nikki Luinstra (Robin Nicole Jones)  who is forever in her happy place now …. She LOVED the beach! We watched the movie Beaches together at about 19 years old and made a promise to one another that I was not able to fulfill in person, yet have done my best to fulfill in my imagination since she phoned me last month. 
Nikki left a voice mail on June 25, 2013 saying, "Camilla, my sister. I haven't talked to you in forever. I really need to talk to you now. Call me. I love you." I phoned her right back and it was the most out of body conversation I have ever had. My heart is so heavy that I was not able to go to her when she called me last month. She said, "Remember when we watched the movie Beaches? Remember what we said to each other? Will you be coming down here anytime soon?" She was calling to tell me good bye … She also told me she was worried about her family, her husband, Mark and her 3 daughters. I want her daughters, Shelby, Kelly and Marcy to KNOW that they will always have a friend and mentor in me. Should they ever need someone to listen or to offer advice who also knew their Mom …. I am forever here for them.
Although we did go on our own separate journeys that took us thousands of miles from each other, this was never forgotten. My wish is that my imagination was strong enough that it reached her and she felt as though we were sitting on the beach soaking it in during this last month. I know too that the next time I visit a beach, Nikki will be there to just say "Hey".
We met when we were in high school at about 16 years old. We worked at the same grocery store, Jitney Jungle. We quickly became the best of friends. We spent so much time together and eventually coined ourselves as sisters since neither of us had a sister. I even called Nikki's Mom, Peggy, my other mother. Nikki and I lived together for a time before I moved from Mississippi in 1990. She was indeed a great friend.
Nikki was a dedicated friend, Mom, Wife, Daughter, Sister, Aunt, Nurse … whatever role she had chosen to fulfill. Now she is an Angel and knowing her, she has dedicated herself to this like everything else in her life. Nikki's ashes were taken to the beach she loved so dearly and scattered. Her body and soul are now free of the cancer that took her life. I wanted Nikki to have a forever in the digital world too so I wrote this article dedicated to her. Love you Nikki … Enjoy that eternal beach! xoxoxoxo
My wish is that this article inspires just the right person at just the right moment when he/she stumbles across it in this vast digital world. Further, my wish is that you know that a deep and true friendship spans distance and continues it's strength with time, even when friends go months or even years without talking with one another. The bond created never weakens ….