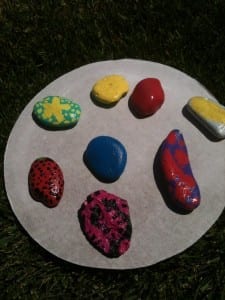 My 10 year old son, Thomas, had been asking me what he could do to help support our trip to the Chromosome 18 Conference this July 2016 in San Antonio, Texas and to also help with day to day things.
I told him to do something that brings him joy and happiness and something he enjoys doing. He chose to paint rocks!
As he was painting them, he described his thoughts as he was holding and painting the rock. I suggested he include that information as a message with that particular rock.
He is selling them for between $10 – $15. If you are moved and it feels right, please visit his blog post titled, Painted Rocks by Thomas. Oceans of thanks to you! xoxo
Blessings,
Camilla
See It. Share It. BE IT … Spread Love Everywhere You Go!
Did you know I wrote a book? It's titled "D iz for Different – One Woman's Journey to Acceptance" and you can read more about it here.
Latest Articles:
[catlist name=blog]
Go here to subscribe to my blog to ensure you receive new posts delivered straight to your inbox! Right here!