April 23 2023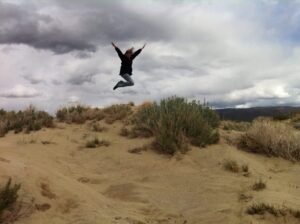 (Photo of me at Washoe Lake, taken by Thomas in 2016)
I'm late to the game here, but I just discovered this song, "I'm Never Gonna Not Dance". This is my new Life Theme Song. That person you see walking-dancing, dancing her in the car, dancing in the grocery store, that's me.
I was just telling someone on Friday that I have loved dancing since I was a child. I feel the beat, the words in every fiber of my being and my body has to move. It's deeply satisfying and joyful.
Can't stop. Won't stop.
Blessings,
Camilla
See It. Share It. BE IT … Spread Love Everywhere You Go!
"Words of Alchemy", published December 2019, is a free-verse poetry memoir covering the last 6 years of my life. The poetry of nature, the poetry of healing, the poetry of appreciation, the poetry of love, in one beautiful book.
Amazing news! My 21 year old daughter, Lillian Darnell's debut book, "Where Would You Fly and Other Magical Stories" was published January 2018. Learn more and order here. 
Wonderfully exciting news! My 17 year old son, Thomas Darnell's book, Biggest Little Photographer is published. Be inspired! Learn more and order here.