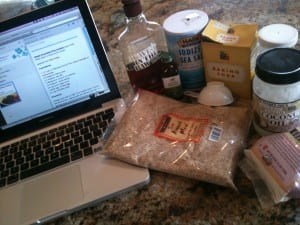 I've been making these gluten free almond flour cookies for over a year for our family and we LOVE them. Lillian is sensitive to gluten and lactose so she is on a gluten free diet and very low lactose diet. These are super easy to make and all three team members, Thomas, Lillian and Camilla, enjoy the taste and texture.
Classic Cookie (grain-free)
(adapted from this recipe)
Ingredients:
1 1/2 cups almond flour – I use Trader Joe's Just Almond Meal (1 lb) (amazon affiliate link)
1/4 teaspoon baking soda
1/4 teaspoon sea salt
2 tablespoons coconut oil, softened – I use Trader Joe's Organic Virgin Coconut Oil (amazon affiliate link)
1/2 teaspoon gluten free vanilla extract
1/4 cup local honey or Grade B Maple Syrup or organic Agave Syrup
2 tablespoons Guar Gum or Arrowroot Powder (substitute for egg) or 1 whole egg (I've done this both ways. Just has a bit different texture depending on which you use. I was out of eggs one day and the kids wanted these cookies. Just happened to have some Guar Gum!!
Directions:
Preheat oven to 350˚. In a medium bowl, combine the almond flour, baking soda, guar gum (leave out guar gum if using an egg) and salt, and mix well. In a separate bowl, combine the coconut oil, vanilla and maple syrup, (add the egg if not using guar gum) and mix well.
Add the wet mixture with the dry and mix well. If it seems to dry, experiment with adding a tablespoon or two of water or a dash of almond milk (My favorite is Trader Joe's Unsweetened Vanilla Almond Milk). I play around with it each time I make this recipe so the cookies are never the same. They always taste good though!
**LOVE OFFERING** If you find this content helpful, I invite you to toss a tip in the love offering bowl. With oceans of gratitude … Camilla ….
Drop about a tablespoon of batter onto a baking sheet sprayed with olive or coconut oil cooking spray (or use Silpat or parchmant paper). Bake at 350 for 10 or 15 minutes. Check the cookies at the halfway mark. I like to turn mine over at this time.
Allow em to cool and then pour yourself a big glass of almond milk and enjoy those babies!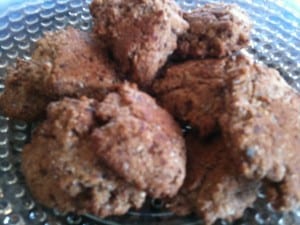 This article is now part of my inventory in Recipes.