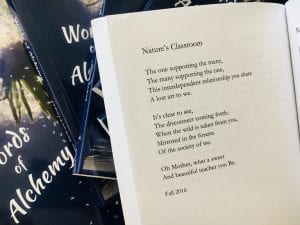 Nature's Classroom
The one supporting the many,
The many supporting the one,
This interdependent relationship you share
A lost art to we.
It's clear to see,
The disconnect coming forth,
When the wild is taken from you,
Mirrored in the forests
Of the society of we.
Oh Mother, what a sweet
And beautiful teacher you Be. – ©Camilla Downs
Blessings,
Camilla
See It. Share It. BE IT … Spread Love Everywhere You Go!
"Words of Alchemy", published December 2019, is a free-verse poetry memoir covering the last 6 years of my life. The poetry of nature, the poetry of healing, the poetry of appreciation, the poetry of love, in one beautiful book.
Amazing news! My 19 year old daughter, Lillian Darnell's debut book, "Where Would You Fly and Other Magical Stories" was published January 2018. Learn more and order here. 
Wonderfully exciting news! My 14 year old son, Thomas Darnell's book, Biggest Little Photographer is published. Be inspired! Learn more and order here.