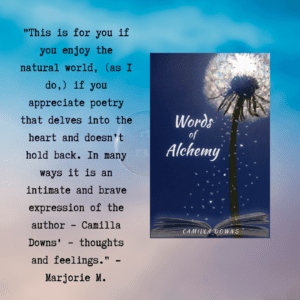 "What a joy it is to read this gem of a poetry book. Full of beautiful free-verse, a memoir about friends, family, relationships and the love of the nature. This is for you if you enjoy the natural world, (as I do,) if you appreciate poetry that delves into the heart and doesn't hold back. In many ways it is an intimate and brave expression of the author – Camilla Downs' – thoughts and feelings. I highly recommend." – Marjorie M.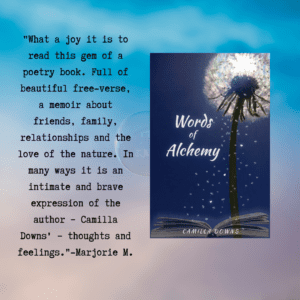 Blessings,
Camilla
See It. Share It. BE IT … Spread Love Everywhere You Go!
"Words of Alchemy", published December 2019, is a free-verse poetry memoir covering the last 6 years of my life. The poetry of nature, the poetry of healing, the poetry of appreciation, the poetry of love, in one beautiful book.
Amazing news! My 18 year old daughter, Lillian Darnell's debut book, "Where Would You Fly and Other Magical Stories" was published January 2018. Learn more and order here. 
Wonderfully exciting news! My 14 year old son, Thomas Darnell's book, Biggest Little Photographer is published. Be inspired! Learn more and order here.