Why is writing important to me and what five words best describe my writing style? That and more in this great interview with fellow author, Clare Rhoden. I'm grateful to Clare for putting together such thoughtful questions.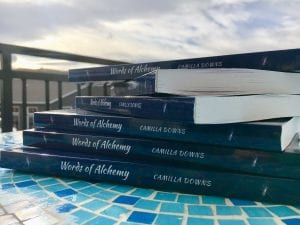 …… Welcome, Camilla, and thanks for speaking with me on Last Word of the Week. Why is writing important to you?
Writing has been a sanity saving bridge, in processing life experiences, in being a single parent, in being a parent to a special needs child, in making decisions. Writing has been my way of sharing what I'm experiencing, getting it out of my head, being comforted, assured, cheered on, and, at times, receiving direction.
It's definitely a two-way street. What's the best response you've ever had to your writing?
The best response is a compilation of the responses in which others share how my writings have inspired or helped them in some way. There's nothing better than receiving a message or review that lets me know that my writing was useful to someone.
What five words would best describe your style?
Wild, unfiltered, from the heart.
Delightful! Do you write for yourself or for a particular audience?
To date, I have always written for myself. Writing is how I process and experience life. The feedback received when sharing what I write is what encouraged me to pursue publishing the content.
What's the scariest thing you've ever done?
Making the decision fourteen years ago to leave my marriage, becoming a single parent to two children; 1 year old and 5 years old at the time. I had no idea how I would manage, how I would survive. They are 14 years old and 18 years old now. It is through sheer grit, determination, letting go of the fear of asking for help, and not feeling shame for accepting and receiving help, that we've made it successfully to this point.
What a huge moment that must have been. What's your favourite genre to read?
I have made shifts throughout my reading years. As a child and teenager I was all about fiction and horror. As an adult I shifted to mysteries, reading every book Agatha Christie had written, ending with her autobiography. Then I shifted to only business books, autobiographies and biographies of successful people. Reading then shifted to non-fiction books in the self-help, mind, body, spirituality type books. With the latest shift being opening back up to the fiction genre, along with memoirs and books about writing.
That's pretty comprehensive, indeed. Where do you get inspiration or ideas from?
My latest book, Words of Alchemy, was largely inspired by Nature, and the many walks I took during the time it was written.
Is it easy for readers to find your book/s?
Yes, I believe so. My books can be found on my website or on Amazon.
If you could write a note to someone about to read your book, what would you say?
This is such an interesting thought and question. When readers buy a book directly from me, I actually do include a personalized note when signing the book, in addition to a creative message hidden within the book. I have incredible fun doing this!
I would say, "May the perfect words within this book, touch your heart, at the perfect moment. Love, Camilla"
That's lovely. Do you write in more than one genre?
My first book is a memoir of my journey to acceptance of myself, and acceptance of becoming a single parent to two children, one with special needs, one a genius (who is most likely on the spectrum).
The second book, for which I am simply a contributor, is my daughter's book. I collected her writings, organized them, wrote the introduction, edited, proofed, and published the book. Her book was intentionally not professionally edited so as to share her unique view with the reading world. A photo I took of her was used for the cover of the book. It is in the fiction genre as it is a collection of her short stories and poetry from 5 years old to 15 years old.
The third book, I am also simply a contributor, as it is a photography book of photos my then 8 year old son took. I organized the book, wrote the introduction, and he and I chose quotes to pair with the sections of the book.
My latest book to publish is a poetry memoir of the last 6 years of my life.
What an amazing collection! Truly inspirational, Camilla.
Thank you once again, Clare, for having me be a part of your wonderful blog! All the best to you.
See the full interview by following this link ..
Blessings,
Camilla
See It. Share It. BE IT … Spread Love Everywhere You Go!
"Words of Alchemy" has arrived, December 2019! A free-verse poetry memoir covering the last 6 years of my life. The poetry of nature, the poetry of healing, the poetry of appreciation, the poetry of love, in one beautiful book.
Amazing news! My 18 year old daughter, Lillian Darnell's debut book, "Where Would You Fly and Other Magical Stories" was published January 2018. Learn more and order here. 
Wonderfully exciting news! My 14 year old son, Thomas Darnell's book, Biggest Little Photographer is published. Be inspired! Learn more and order here.