On January 17 2019, Lillian Darnell left for another long weekend with The Romano Duo (grandparents) ….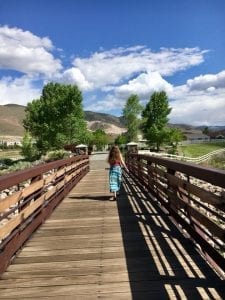 I look forward to these days of respite.
She looks forward to them.
Yet, every time she leaves to spend days away,
My heart is surrounded by a tingling sadness.

It's such an interesting feeling.
When tingling sadness dances with peaceful contentment.
They pair well.
Sharing wisdom and shedding Light.

I take the hand of tingling sadness and peaceful contentment.
We embrace and dance to the tune of an old and worn knowing.

And the small, barely there rain drops fall
to slowly make disappear her foot prints,
as she joyfully leaves me.

Loving this dance with life
Living this dance with life
What a Life!
Hey, come and get it
Keep it coming,
Get your dance card and let's dance.
-©2019 Camilla Downs
Blessings,
Camilla
See It. Share It. BE IT … Spread Love Everywhere You Go!
Amazing news! My 17 year old daughter, Lillian Darnell's debut book, "Where Would You Fly and Other Magical Stories" is arriving January 2018. Learn more and order here.
Wonderfully exciting news! My 13 year old son, Thomas Darnell's book, Biggest Little Photographer is published. Be inspired! Learn more and order here.
Go here to see latest soul writings. xoxo