(Excerpt from my book, "D iz for Different – One Woman's Journey to Acceptance")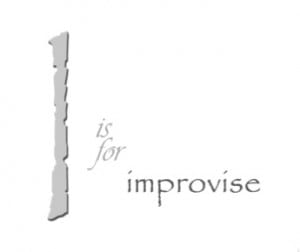 We all improvise on a daily basis. We just aren't aware of it because it happens so naturally. When we have spontaneous conversations with people during our daily interactions we are improvising. Our dialogue is not "memorized" or practiced. Tapping into this natural improv skill has helped me in dealing with my kids and with not-so-great life situations.
People tell me it makes them tired just watching all the adventures my kids and I have. We really don't do that much. It just seems that way to those on the outside of our little world. By nature, I am an introvert. I love staying home; but I also know I want my kids growing up learning that you can turn just about anything into an adventure. Be spontaneous. Making things up as we go along is the ultimate adventure. It may not be possible to do this all the time, but with practice you can incorporate it at every opportunity. Our kids will learn how to tap into their own improvisational skills the more they see us doing it. By our example, they will learn how to turn the everyday into an adventure and how to cope when things don't go their way.
Recently we arrived at an event that my kids had been anticipating all day. As we got closer to the building we saw a line that snaked around the entire building. There was no way I was going to stand in that line. Fortunately, Thomas and Lillian agreed; but they were still disappointed. This was an opportunity to improvise and save the situation. On the way home we stopped at one of our favorite places in Reno, Audrey Harris Park. The earlier excitement in the car returned as we made our way. It's not really much of a park. It's very small, with only a couple of benches and it sits at the edge of a ridge. It's a special place to us though. I am in love with the amazing view of Reno and the skyline which infuses me with peace and awe. I take joy in the drive there and the drive back home. Thomas and Lillian enjoy the view too. More than that, it has become a special place for the three of us as a family. What a great day!
Being a single parent to Thomas and Lillian has indeed been an adventure. In fact, my entire life is a great improvising adventure. Being that I am a procrastinator, with an added pinch of spontaneity, you could say that I am quite the adventure for my kids. Even though I make much of our escapades up as I go along, it is perfect, and I look forward with a happy, smiling heart to every single adventure yet to come for me and my little family.
Tip for the Journey:
Find some time during your day NOT to have a plan. No planned activity, no schedule to follow. Wait until that specific moment and ask yourself what you would like to do for the next hour or two. If you are with your kids, ask them what they would like to do, what kind of an adventure they would like to go on. Kids can come up with some pretty amazing ideas for adventures. Most likely you will not really be able to have the exact adventure they suggest, but this is where improvisation comes into play. As parents, we improvise all the time, and don't even realize it; when a toy breaks, or the scissors are missing, or they want something to use as a ramp to play cars. You name it! Practice transferring this great skill to other areas to create peace in your life.
When we aren't happy or not truly living in the present moment, it's hard to improvise. Practice keeping yourself in the present moment. As often as possible repeat thoughts and activities that help you to pay attention to the present moment, experience joy, and be inspired. When you live in the present moment you are better equipped to tap into your improvising skills, be spontaneous, and go with it.
Heartfuly Inspired,
Camilla
See It. Share It. BE IT … Spread Love Everywhere You Go!
Latest "Mindful Living" Articles:
[catlist name=inspired-living]
Go here to subscribe to my blog to ensure you receive new posts delivered straight to your inbox! Right here!