On November 1 2021, I mailed the letters we wrote to ourselves in 2016, five years ago. We wrote them, sealed them, and I hid them in my fireproof safe box. I put a note on my calendar for 5 years out to mail them. I absolutely did not remember what I had written!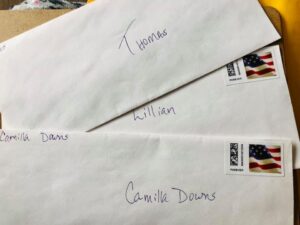 This was such a moving experience. On November 3rd, we received the letters we wrote to our future selves five years ago, November 2016. Thank you 2016 Camilla. ❤️❤️❤️ Thomas likes his, too. Lillian likes the advice she gave herself.
Blessings,
Camilla
See It. Share It. BE IT … Spread Love Everywhere You Go!
"Words of Alchemy", published December 2019, is a free-verse poetry memoir covering the last 6 years of my life. The poetry of nature, the poetry of healing, the poetry of appreciation, the poetry of love, in one beautiful book.
Amazing news! My 20 year old daughter, Lillian Darnell's debut book, "Where Would You Fly and Other Magical Stories" was published January 2018. Learn more and order here. 
Wonderfully exciting news! My 16 year old son, Thomas Darnell's book, Biggest Little Photographer is published. Be inspired! Learn more and order here.